State Rep Poses With Students Protesting Gun Violence, Posts Pic To Facebook With Joke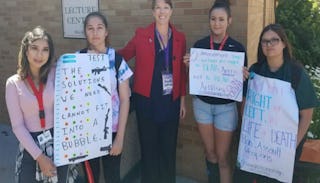 Image via Facebook/Priscilla Giddings
Her 'joke' about student protesters has many calling for her resignation
Idaho state Rep. Priscilla Giddings (R) is facing some major public backlash after sharing a photo standing with student's protesting for gun control and deciding to make light of the situation on her public Facebook page.
"Idaho State University students peacefully protesting our Republican convention," Giddings wrote. "Do you think I should show these girls the empty 30mm shell I have in the truck?"
The photo shows students from Idaho State University standing with the Republican state lawmaker outside of Idaho's Republican convention, with signs protesting gun violence. One of the signs reads, "2nd Amendment says we have the right to bear arms, not to bear artillery," and "It's not right or left, it's life or death."
In a year where school shooting death tolls alone are higher than our military and in the same week, five people were killed when a gunman opened fire at the Capital Gazette, Giddings' comments aren't just tone deaf, they are outright obscene. There are so many school shootings in this country our kids say things like, "It's been happening everywhere, I've always kind of felt that eventually it would happen here, too," after almost a dozen people were shot and killed in their hallways.
So, no. I think they'd take a hard pass on your shell casing, you absolute dipshit.
Giddings' caption on the photo sparked outrage from many on social media, some feeling that she was making fun of the protestors and others who felt it was a thinly veiled threat against the women. Others are asking for her to hand in her resignation:
Many people commented on Giddings' post itself:
On Saturday, even as Giddings' comments were being blasted in the media, the Idaho Republican Party honored her at the convention for her military service, the Idaho State Journal reported. Giddings is a former active duty Air Force pilot, combat veteran, and a current a member of the Idaho Air National Guard and Air Force Reserve.
The Idaho Democratic Party released a statement regarding Giddings' post saying, "The Idaho Democratic Party respects and upholds the Idaho State University students' right to peaceful protest. We respect all Idahoans and would hope that anyone running for public office would as well."
Giddings told The Associated Press she would be releasing a statement but has yet to do so. She is up for re-election this November — and thus far, is running unopposed.
This article was originally published on