Don't Expect A Babysitter (Or Nanny) To Work For Pennies
by Sa'iyda Shabazz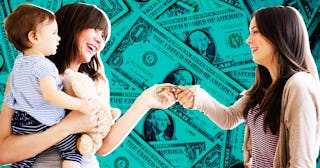 Scary Mommy, Jamie Grill/Getty and Sharon McCutcheon/Unsplash
Let's just state the obvious: Parents need time away from their kids sometimes. We live in a world where both parents in many two-parent households work outside the home. And even if childcare isn't needed for work obligations, believe it or not, parents like to get out of the house alone from time to time. Enter: babysitters and nannies.
Sure, some parents turn to daycare, but others choose to hire childcare providers like babysitters and nannies to care for their children. And if you're going that route of private care, you need to be paying your professional childcare providers a livable wage. None of this $2 an hour bullshit.
Look, babysitting in today's landscape is much different than the babysitting we knew as young adults. It's more than asking the local teenager to come hang out with your kids and paying them in free WiFi and snacks. Even if it's only for a night out, parents are now looking for professional caregivers. We want people who treat childcare like the important job that it is and not like some "hobby." It's not about using whoever is available; parents make a solid effort to find someone who takes the gig seriously.
Many babysitters and nannies are putting themselves through school, sometimes with a focus in childhood development or education. Others are mothers themselves with a ton of real-life experience. And here's the other thing: if you want the experience, you've got to pay for it.
So if you're not prepared to do so, you need to lower your expectations.
According to data from Sittercity, a popular site for finding childcare, the average hourly rate for private childcare in the United States in $17.50 an hour. And remember: that's just base pay; there are lots of factors at play when it comes to how much you should be paying your babysitter or nanny.
If a nanny is working full-time (30-40 hours a week) and is also helping with housework, meal prep, laundry, they need more money. If you have a young child, you're going to want them to be certified in things like CPR and you'll need to pay them more. If you have multiple children… you guessed it. PAY THEM MORE.
Base pay is for one child, so you should be adding at least $1 per additional child. This is especially true for playdates. If the other child isn't bringing their own chaperone, you best be paying for the extra kid.
Bottom line: professional childcare providers aren't working for less than a decent wage commensurate with their experience.
I know that sounds like a lot, and I understand the struggle for many working parents. As a working, single parent, I GET IT.
After my son was born, a job in childcare was one of my few professional options. Having worked in childcare on and off for much of my life, I knew that I had experience on my side. And living in a major city, jobs were easy to come by. But when I saw what parents were expecting from their sitters versus what they were willing to pay, it was downright shocking — and insulting. Parents would have lofty expectations for a sitter, and were typically not willing to pay a wage that matched their criteria.
Of course, because I was a parent, I understood barely being able to afford $12 an hour. I brought my son along on jobs because I couldn't afford to pay someone to watch him. Because of this, I was often more willing to work for families who couldn't pay as much. But it was a hard choice, and a big sacrifice financially to do so.
Working for $10 an hour, 20 hours a week barely covered my weekly transportation and meals. One of the families I worked with ended up costing me money. It was a single mom and her son, and as a single mom myself, I felt for her. But I wasn't making enough hourly to justify the almost two hours each way I was traveling.
When it comes to childcare, there are options out there. You may not have to hire a private caregiver, but if you're choosing to, you've got to pay them fairly. And don't forget that you're getting something for that extra cost. Elizabeth Harz, the CEO of Sittercity explains the benefits of hiring a private caregiver versus sending your kids to a daycare or other care option.
"The peace of mind of having someone in your corner to support your child's individual development, in big ways and in small, is incalculable. It's knowing that the sitter and your little one will have just as much fun, if not more, as you will on a night out with your friends or partner. Or having a nanny step in to support you during the hazy struggle of sleep training because they know the quirks of your baby as well as you do. Not to mention, 74% of working mothers say they have excelled in their careers as a result of babysitters and nannies. When you invest the time and energy into finding the right people for your family, it's a game-changer."
Bottom line: Hiring a professional childcare provider for your children is a huge decision and makes a dent in your pocketbook, but you just can't cut corners on this. Being able to pay your babysitter or nanny a wage that works for everyone is the most important thing. You're putting your children's lives in this person's hands, so you should at least be paying them accordingly.
As much as you're struggling financially, so is your nanny or babysitter. Paying what they deserve should be a no-brainer.
This article was originally published on