It's Rage-Cleaning Season, And We're Here To Help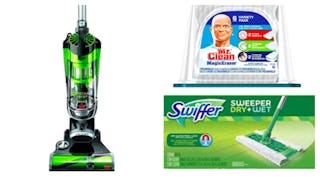 AMAZON.COM
It's that time of year when moms around the world pull up their hair and get their rage-cleaning face on. That feeling of getting rid of all the extra crap, delving into de-Christmasing, and throwing open a window to let in some fresh air is orgasmic. Well, almost.
It's so satisfying to see piles of crap disappear. There is a calm that spreads over your body when your home is organized even if you know it won't last, because kids.
The urge seems to hit hard after the holidays — it's fleeting, we all know that, but it doesn't mean we can't have fun and get lost in the moment while it lasts. I mean, yeah, we feel like a badass when we wear leather pants, but that doesn't compare to the feeling that comes after we've organized the coat closet and we actually find stuff.
The Scary Mommy team wanted to share some of our favorite cleaning and organizing products that will make your life easier and get you super excited to purge and declutter. Let the party begin:
Even if you don't have pets, you need a vacuum with power like this one. It's bagless, and has a tangle-free brush roll. It also traps allergens and eliminates pet odors as you vacuum.
We all have those days where we want a fresh smelling home, but don't have it in us to do the actually cleaning. Fool your guests and your nostrils into thinking you just scrubbed your home by dimming the lights and lighting one of these light, fresh smelling candles.
Storage containers make us feel uber-organized. I love these big, sturdy ones from Rubbermaid. Make sure you get some for closets, under beds, and the garage. They hold anything and everything, and keep the unsightly stuff tucked away.
On the first warm day, I love to open my windows to air things out, and this lime and sea salt spray is one of my favorite scents to clean with. It always leaves me wanting a Margarita too, and after all that cleaning, we totally deserve it.`
This is the time of year when everyone has a touch of something all the time, and you can't mess around — you have to bring out the big guns. These Lysol wipes make it so easy to kill viruses that cause colds and the flu. Keep a container in the kitchen, one in the car, and one in the bathroom to kill those nasty germs and clean everything in one quick swipe.
This Method Stainless Steel Polish is great for your appliances, doorknobs, toaster, and coffee makers. It's non-toxic and the bottle is made from 100% recycled materials.
Let's face it, where there are kids and pets, there's urine. Sometimes you find it on the bathroom floor, walls, the living room carpet, or their bedroom rug. Keep some Clorox Urine Remover handy, and you don't have to worry about your house smelling like a sack of pee.
All the Mrs. Meyers cleaning products are eco-friendly and made in the USA. There are so many yummy scents, it's hard to choose. I love the countertop spray — I use it to clean my stovetop and walls, too. The house always smells so fresh after wiping down every surface with this and you have peace of mind knowing it's safe for anyone who touches it.
If you've been staring at stubborn carpet stains, might as well use that rage-cleaning energy and scrub them out now. Spot Shot is industrial strength and the reviews on Amazon are proof it works like a dream.
I love nothing more than getting down and dirty with Mr.Clean. These magic erasers are must have — love this variety pack. If you have a mess on the wall, in the tub, or on the stove, there's a magic eraser for that.
If you are going to organize your life you are bound to need more shelving. These stainless steel shelves are sturdy, have a modern look, and will work in any room from a bedroom to a bathroom. Have you seen how Barefoot Contessa organized her pantry with them? I'm drooling. #pantrygoals
The swiffer sweeper is a lifesaver when it comes to keeping your wood, tile, or linoleum floors clean. I know I'm not the only one that is obsessed with mine. It's easy, and you don't have to deal with mop water or a bucket. If you have pets and can't find the time to vacuum, the dry wipes are perfect to run across your floors and collect all the hair.
Now stock up for when you are ready to get down to business and purge half the contents of your house while yelling at your family about their clutter.
Editors may receive samples and/or a share from purchases made via links on this page. All opinions are our own.
This article was originally published on