Raising My Kid In My Hometown Is Really Special
by Sa'iyda Shabazz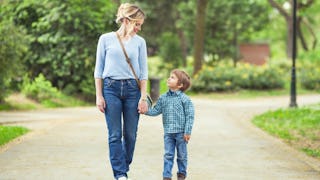 bokan76 / iStock
I'm from Staten Island, New York. I often refer to it as the borough that time forgot, and for good reason. I knew that things didn't change much around here, but I didn't realize how true that was until I moved away for four years.
I never thought that I would be living in my hometown again. I definitely didn't think that I would be raising my son in the same place I grew up. It's not that I come from a bad place; it's just that I had outgrown it so thoroughly over the years that I couldn't imagine it being the kind of place I would raise my child.
I'm back, though, because life happens. I'm back where I grew up, my familiar stomping grounds, and there is something comforting in knowing how little things have changed. The same bakery I went to every day after school is still there. The barbershop is still on the corner, and the hardware store is still the same.
Even though some of the businesses have changed, I still remember what was there before. The Sri Lankan restaurant that used to be a dry cleaners where my friend's mom worked, the laundromat that used to be a health food store where I used to get my favorite sparkling soda. The hair salon I used to go to when I was a kid that closed last month.
Many of the places I take my son to are the same places I used to love going to when I was a kid. There's so much magic in this. Some of the places have barely changed, and it has been really enjoyable to watch him love them as much as I did when I was his age. Most of the time we don't leave our neighborhood; there's a playground and a library within walking distance so we don't have to go far for kid-friendly fun.
I remember spending hours at our library, pouring over books and going to special events. I was a serious bookworm when I was a kid so we never left without a small stack of the latest Baby-Sitters Club books. My son isn't quite as voracious of a reader as I am. He's still young, but that doesn't mean he doesn't love the library any less. He asks to go at least twice a week to enjoy their play area (which is one of the only things that has changed, for the better, since I was a kid). Sometimes he wants to read a book, and I sit in one of the beanbag chairs amongst some of the same racks from my childhood, remembering how magical and fun I thought it was then, and still do now.
He absolutely loves spending time outside and asks to go to the playground almost every day. The playground that we frequent most often is the same playground I remember visiting with my dad. On days when I'm feeling adventurous, we take the bus to the other park I spent a lot of time at as a kid, and here's the thing that I feel most comforted by: Neither park has really changed much in the last 20-something years.
I swear, the giant slide at the playground that's farther away is the same one I spent hours sliding down as a kid. My son has just gotten brave enough to go down by himself, and I stand at the bottom the same way my mom did. We sit on the same swings (which are my favorite), him in my lap while I pump my legs back and forth. "Higher Mommy! Let's go fast!" He squeals as his little hands grip the chains.
After we play, we stroll along the lake and feed the geese and ducks Cheerios, which is always the best part of the trip. In the summer, he plays in the sprinkler, in the same area where I remember slipping and cutting my knees.
Of all the places that we go, our favorite is the Children's Museum. I'm really not kidding when I say that it is (damn near) the same as I remember it as a child. Some things have changed, of course, but the thing he loves the most (which I also loved the most!) has not. It is a room that is called "Block Harbor." It's filled with blocks and a reading nook and the bow of a giant ship.
When I walked in with him, it was like being transported back in time. The room was the same color. The ship was the same. I even remembered the smell. The nostalgia hit me in waves as we played together in the room. I remembered it being my absolute favorite place in the whole museum. And it is usually the place where my son and I spend all of our time once we get there. I have had to carry him out literally crying because they're closing. Sometimes it feels like he's nothing like me, and then something like that happens and I realize he's mine after all.
I love being able to share these special moments with him, and see the same places that are permanently burned into my memory through his eyes. To me, they are old, but to him they are new. He doesn't believe that these are some of the same places that I used to frequent back in the day. I hope that he retains the memories he has now, and that maybe one day in the distant future, if those places still exist by the time he becomes a father, he will bring his kids to see the place where he grew up and tell his kids that he used to play here too, and they will look at him with the same disbelief.
Even though my hometown isn't where I imagined myself at this point in my life, I'm really glad to share these memories and special places with my son.
This article was originally published on