Vicki's Royal Tea Party On 'Real Housewives' Was Far From A Classy Event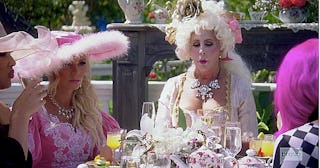 Braunwyn Windham-Burke and Gina Kirschenheiter come to a head during Vicki's "high tea" birthday party: 'Pinkies up!'
Can any storyline or argument possibly top last week's episode of the Real Housewives of Orange County when we were introduced to Karen? You know, the woman in red wielding a microphone who gifted us one of the greatest scenes in RHOC history: the fashion show showdown?
No, but that doesn't mean this week wasn't without its fair share of drama. And with an episode titled "Spilling Tea and Throwing Shade," how could it not?
After watching Tamra Judge, Shannon Beador, and Vicki Gunvalson shop for costumes for Vicki's "Queen Victoria" royal, high-tea birthday bash and watching Kelly Dodd reject Tamra's invitation, we finally arrive to the big moment: the outdoor, tea garden-themed party. Gina arrives donning an over-the-top, sexy-Mad Hatter costume, complete with a neon pink-hued wig. It's the only costume that really matters among the women because it's so out-of-place. Oh, right, and Gina reveals she started sleeping with Matt, her ex-husband, again — to which Braunwyn responds, "Good for you for making bad choices. It just makes me feel less alone."
Vicki, Shannon, and Tamra then roll up to the public restaurant in a horse-drawn carriage, as Vicki would.
At the table, the RHOC ladies, sans Kelly, engage in light conversation, rehashing the fashion show showdown between Kathy and Braunwyn and Kelly. But the table-talk quickly escalates as the women then proceed to talk about Kelly behind her back. First, we hear that Kelly got into a bar fight, and then Braunwyn adds that Kelly and her boyfriend, Brian, also got into a fight with each other, leading to an "Instagram breakup."
Tamra and Shannon, the two women who initially started talking about Kelly, proceed to leave the table and head directly to the bathroom. They FaceTime Kelly, attempting to convince her to come to the party. Kelly refuses, and the two women head back to the table as if they didn't just stir the pot not once, but twice — once at the table and again behind everyone's back. So shady.
But it's the clash between Gina and Braunwyn that gets heated. It starts with Gina talking about her daughter, and Braunwyn chimes in telling the women her children attend public school. The women say her children actually attend a charter school, which prompts Braunwyn to cry. Cry!
"I'm not talking about your kids! It's not about you, Braunwyn!" Gina snapped at Braunwyn's face. "Happy birthday, Queen Victoria," she says to Vicki.
"I'm sorry it's just too much. It's like everything we do, it's back to Braunwyn. I hate being like this, but it's, like, Jesus. She said, 'When your kids have problems, being poor is better.' That's what I got from it," Gina says to the women while Braunwyn is in the bathroom. "You're talking bout my daughter, and you're saying something that you think is a good thing to say, but it's such an asshole thing to say. Don't put me down and then follow up with how up you are."
Shannon's theory is Braunwyn was just trying to give Gina helpful advice and help her out, but her delivery — well — sucks. Either way, Gina says she she feels bad at the table after making Braunwyn cry.
Was Braunwyn in the wrong? Did Gina overreact? All we have left to say about this episode is bring back Kathy and her microphone. We're *this close* to walking away from this season of RHOC. When Vicki is in a scene and isn't the center of attention (at her own birthday party!), let alone the source of drama, you know something is terribly, terribly wrong. Quick, Andy Cohen, fix it!