I'm About To Change Your Life With My 'Perfect Bath' Recipe
by Sara Farrell Baker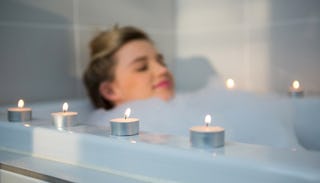 wavebreakmedia / Shutterstock
Baths are my thing. Looking forward to a good bath can keep me going through tantrums, diapers, Caillou, and more. The hot water and bath products soothe my muscles and relax me while a nice candle and a good book help me to fully bask in some me-time.
The pillars of a good bath are quality supplies to make it feel like your tub and not just the tub. I love bath pillows. They keep me from shrieking when my back touches the cold bathtub, while also allowing me to get even more comfortable. Good neck support is great, and if you need more than a pillow provides, you can roll up a small towel and place it behind your head.
Along with a pillow, I like a nice tray so I'm not worrying about knocking anything off the edge of the tub into the water. This tray has a sturdy little holder for my wine glass and another small space for a snack or candle or anything else I might require. It even has a handy stand for my tablet or book. I bought one last year, and I'm obsessed with it.
Ambiance is always important. I used to dream of a big bathroom with a fireplace in the wall. The height of coziness. Back here on Earth, that's not in the cards for my home. But candles with a wooden wick are a nice, tiny substitute. The wood crackles and pops as it burns, and I don't know why, but that sound alone is so relaxing.
Now for what actually goes in the bath. There are a million bath products out there. You can use them individually or combine different ones for a sort of bath cocktail. Oils, bombs, bubbles, salts, soaks, you name it, there's plenty to choose from and try.
The old standard for a nice bath is, of course, bubbles. I like my bubble bath to make a lot of bubbles that will last at least as long as my glass of wine. A little of this bubble bath goes a long way, bringing a light coconut scent to your water.
My other favorite bath products are bombs and salts. I love bombs when I'm feeling fun, and I almost always toss one in while I'm filling up the bathtub. This set is a great way to try out a bunch of different scents, and you can also toss more than one in at a time to create new scents. Salts are what I gravitate toward if I'm feeling especially tired or achey, as they are a great way to relieve muscle soreness.
No matter how you spend it, a little alone time does the mind and body good. Real good. I'm counting down the hours until my next bath. Let's just hope my wine lasts until then.
Editors may receive samples and/or a share from purchases made via links on this page.
This article was originally published on