Regé-Jean Page Just Signed On To A Major New Movie
by Christina Marfice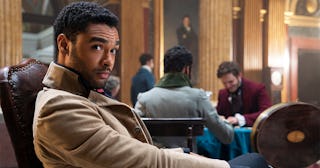 BRIDGERTON REGÉ-JEAN PAGE as SIMON BASSET in episode 101 of BRIDGERTON Cr. LIAM DANIEL/NETFLIX © 2020
The good news just keeps coming for Bridgerton star Regé-Jean Page
For anyone who binged Bridgerton three or four times like I did (no judgement), the absolute highlight of Netflix's most popular series ever was the Duke of Hastings, Regé-Jean Page. He was already a rising star before taking on that role, but suffice it to say he's a total household name now, and the good news just keeps coming for him — most recently, that he'll star alongside some serious A-listers in an upcoming movie based on the board game Dungeons and Dragons.
According to Radio Times, the movie is set for release next year. And while Page will be starring alongside Chris Pine, Justice Smith, and Michelle Rodriguez, he's going to have a "leading role."
Producer Roy Lee explained that the new Dungeons and Dragons movie is "a Guardians of the Galaxy-tone movie in a Tolkien-like universe" and "a Raiders [of the Lost Ark] romp inside that world." In other words, this is going to be a pretty major departure from the courting and ballroom dances of the Ton, but we're still going to take any opportunity we can get to look at Page onscreen for hours at a time, let's be honest.
While there isn't much more public information about his new movie yet, Page has a lot of exciting new developments happening in his life. It was just announced that he's going to host Saturday Night Live this weekend, which is something we will absolutely be tuning in to see.
Page is also nominated for Outstanding Performance By a Male Actor at the SAG Awards, as well as the Outstanding Actor in a Drama Series category at the NAACP Image Awards this year, alongside several other nominations for Bridgerton and his co-stars. With more awards season nominations still to come this season, you know there will be more for Bridgerton and its fan-favorite stars. You love to see it.
We don't know how much of a role Page will have in the upcoming second season of Bridgerton, since the focus of the story will shift away from his character and Daphne Bridgerton, and instead focus on Anthony Bridgerton's quest to find love during the next social season. So if we can't have any more steamy library scenes at the Hastings Estate, we'll take Page wherever we can get him — from SNL to whatever new movie he signs on to.
This article was originally published on