Regé-Jean Page's Monologue On 'SNL' Left Viewers Dehydrated As Hell
by Kristine Cannon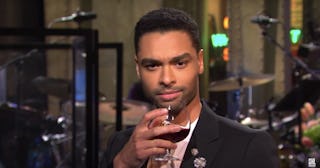 Saturday Night Live/YouTube
The thirst was real last night
When Bridgerton fans found out the Duke himself was hosting Saturday Night Live, they — rightfully — freaked. Since the seemingly overnight success of Regé-Jean Page, he's amassed a huge following of fans, virtually all of which were watching last night because, holy crap, Twitter was thirsty as hell. And it all started with Page's monologue.
Page opened up SNL explaining to viewers (and, eventually, female SNL cast members) that he's nothing like his character, Simon Basset, Duke of Hastings, on Bridgerton — between cutting to the camera to fog up the lenses with his signature seductive, smoldering looks. Cast members Aidy Bryant, followed by Ego Nwodim, then interrupted the monologue to announce they'd be Page's SNL liaison, "a personal escort for all your personal needs. Anything you need – alcohol, a massage."
"You can both relax," Page told them. "I am nothing like my character the duke."
"I'm actually quite shy," he continued, staring into the camera. "It's hard for me to talk about myself because, well, mostly I just want to listen."
He then took a sip from his snifter, which got literally every person present and watching reaching for that large glass of water.
"OK, this is dangerous," Nwodim said, as Page crooned The Righteous Brothers' "Unchained Melody."
Nwodim and Bryant then revealed what every Bridgerton viewer has either memorized or safely documented on their Notes app: the time stamps. (IYKYK.)
"I'm flattered you liked the show. Did you have a favorite part?" he asked them.
"Hmm, I don't know, Episode 5, 52 minutes in?" Nwodim answered.
"Yeah, Episode 6, 5 minutes in?" Bryant followed.
"12 minutes in!" Nwodim quickly added.
"43 minutes in!" "Bryant then explained.
"And then, and then, and then!" Nwodim joked.
And, of course, what's an episode hosted by a Bridgerton star without a Bridgerton skit? In "Bridgerton Intimacy Coordinator," Chloe Fineman dons the spot-on Daphne costume she wore in the monologue and Kate McKinnon plays the role of the director.
McKinnon reveals in the skit that their usual intimacy coordinator "had a COVID exposure," so SNL cast member Mikey Day is seen walking in as the replacement, and Pete Davidson plays his nephew and assistant. But, uh, they're far from experts. You just have to watch the funny sketch for yourself.
Now, I personally thought "Drivers License" was the best skit of the night — and it had nothing to do with Bridgerton and everything to do with Olivia Rodrigo's hit slow song, "Driver's License."
In the skit, a group of guys hang out playing pool at a bar. Page heads over to the jukebox to put on his favorite song at the moment, "Driver's License."
"Sounds like some teen girl singing in her room with a piano," Mikey Day's character scoffs, to which Page responds, "That's the beauty of it. You got a problem?"
From there, the men slowly reveal their true feelings about the song, the real-life drama behind the song, and how the song is "like she ripped a page out of my diary," Beck Bennett says. "I mean notebook. I mean plain brown leather. I can't read or write."
And then, the sing-along hits.
There's something about a group of men accurately dissecting, deeply discussing, and passionately singing along to That Bridge that made me laugh through literal tears. Their discussion of the Goliath-level hit, the ultra-viral song was so accurate, so relatable, and scary on-the-nose. The skit was truly perfection.
Watch the full episode on the NBC app.