Light Up Your Kid's Day Like Rudolph's Nose With These Reindeer Coloring Pages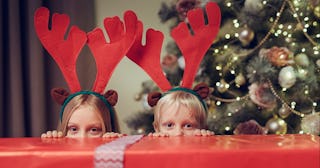 D-Keine/Getty Images
You know Dasher and Dancer and Prancer and Vixen, Comet and Cupid and Donner and Blitzen. But do you recall the most famous reindeer of all? Well, we all know it's Rudolph the Red-Nosed Reindeer (although Prancer is no slouch either). And, as much as Rudolph was freaking cool for guiding Santa's sleigh with his light bulb for a honker, unfortunately, there's no such thing as red-nosed reindeer — at least not in real-life. However, we created this collection of reindeer coloring pages so that your artsy little elves don't have to worry about the rules. They can give all of the reindeer red noses if they want!
Of course, just because reindeer don't have red noses doesn't mean they aren't cool on their own because they most definitely are. Reindeer are not only associated with Santa and Christmas, but they're also real animals who live in the Arctic tundra and damp forests of Greenland, Scandinavia, Russia, Alaska, and Canada. In North America, reindeer are called "caribou." But back to reindeer and Christmas (because we know your little ones are all about Santa and his four-legged Christmas crew), reindeer are said to represent journeying, wandering, safe travels, strength, and endurance. This is probably why they've been so linked with Santa's sleigh.
During this time of year, creating long-last memories with your kids is important, which is why we're giving you this superfly collection of reindeer coloring pages. These free printables are a fun way to spend a wintery afternoon with your little ones. No doubt it will get them excited about the upcoming holidays (as if they could get any more excited about that!). With each coloring page, we've included some rad facts about reindeer to share with your kids, too.
And if you're craving even more Christmas-themed activities after you finish, check out our angel coloring pages, elf coloring pages, Santa coloring pages, and gingerbread man coloring pages.
Free Printable Reindeer Coloring Pages
Reindeer No. 1
A male is called a buck, a female a doe, and a baby is called a fawn. Both male and female reindeer grow antlers, and they are the only deer species in which both the male and female can grow antlers. The fun thing about antlers? They are like our fingerprints — no two are alike!
Reindeer No. 2
Reindeer can live for up to 15 years in the wild, while those cared for by humans, such as in zoos or farms, can live for as long as 20 years.
Reindeer No. 3
Rudolph the Red-Nosed Reindeer was first a children's book written by Robert L. May in 1939 during the Depression. It was initially penned as a Christmas promotion to get parents to shop at the Montgomery Ward department store in Chicago. May then created the song with his songwriter brother-in-law, which became a hit when Gene Autry picked it up in 1949. More than 25 million copies of the song were sold.
Reindeer No. 4
Of course, Rudolph isn't the only reindeer to have his own movie. Prancer was a popular fantasy 1989 movie that has all the feels.
Reindeer No. 5
Reindeer milk is higher in protein and fat than that of any other land mammal. Does this mean we should be making reindeer smoothies for breakfast?
Reindeer No. 6
Baby reindeer weigh only between 8 and 14 pounds at birth, but they are up and walking within an hour. They grow quickly and can reach 90 pounds by four months old. Eventually, males weigh 143 to 529 pounds, and females weigh 121 to 308 pounds. Big and strong enough to pull a sleigh!
Reindeer No. 7
Having been broadcast every year since 1964, Rudolph the Red-Nosed Reindeer stands as the longest-running Christmas special on television.
Reindeer No. 8
Rudolph the Red-Nosed Reindeer took 18 months to produce and was made in two places — voice actors recorded their parts in Toronto, while the stop motion animation was produced in Japan.
Reindeer No. 9
Reindeer spend up to 40 percent of their lives in snow. Thankfully, they have broad hooves and dewclaws that basically act as snowshoes.
Reindeer No. 10
In 2006, the original Rudolph and Santa figures were featured in an episode of Antiques Roadshow. They were valued at $8,000 to $10,000.
Click here to print all of the reindeer coloring pages at once!
This article was originally published on