10 Things To Help You Chill The Eff Out
by Team Scary Mommy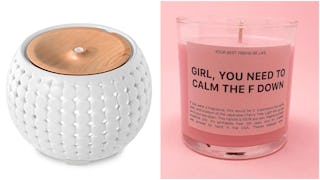 Image via Amazon
These products will deliver all of the R&R you desperately need
It's only a month into 2019 and I feel like we're all pretty exhausted. Among other complaints: it's freezing out, the news cycle is the worst, and "me time" is sparse. The best way to cope? Yummy candles, soothing essential oils, and snuggly blankets. Bring on all of the relaxation.
Sometimes you just need a reminder to the calm the eff down. Especially when that reminder comes in the form of a pretty pink candle, made with essential oils and the fragrance of a Japanese cherry tree. Feeling more relaxed in 3…2…1…
Speaking of relaxation, let's turn our attention to this essential oil diffuser which is packed with plenty of useful functions. It offers relaxing aromatherapy and works as an air freshener, kicking out all of those icky home smells. You'll also get to enjoy essential oils without dealing with any noise from the machine (it operates silently) and there's an array of soothing LED light colors.
This overachieving diffuser will deliver all of the essential oils, play relaxing sounds while you zone out, and display color changing mood lighting.
Add some drops of these essential oils into your diffuser and prepare for total bliss. It's made from Grapefruit Pink, Blood Orange, Patchouli, Bergamot, and Ylang Ylang Complete – so basically lots of ~magic~ in a bottle.
While you're getting your essential oils on, you should probably invest in this sleep mask. It's packed with natural lavender flower and flax seed, and promises aroma-therapeutic benefits. You can also heat the mask to treat sinus problems or chill the mask to relieve puffy eyes. Win-wins all around.
Need a quick fix for stress? These pastilles are all-natural, come in four different flavors (Lemon, Cranberry, Black Currant, and Orange/Elderflower), and promise much-needed relief.
If you want an extra dose of calm, go with this mix. The magnesium and calcium offer a natural stress relief and *bonus points* it's non-GMO.
The key to getting the ultimate night sleep is a super comfortable blanket. This therapeutic weighted blanket offers DTPS (Deep Touch Pressure Stimulation), which is a mild pressure akin to someone holding you. This velvet bad boy promises to calm your central nervous system and give you hours of blissful shut-eye.
Essential oils + bath time = a dream come true. These bath bombs are made from mineral salts, shea, cocoa butters, and sunflower seed oil, which are designed to deliver all of the detox. It comes in a set of six (Energize, Zen, Wellness, Strength, Yoga and Cozy Night) so you've got plenty of warm, soothing relaxation ahead of you.
After you've taken your super relaxing bath, why not lie down and get a head and neck massage? This massager comes equipped with 3D Deep-Kneading shiatsu massage nodes – so all of your stubborn knots can take an immediate hike.
Now, go zen out on a blend of oils, bath bombs, and silky sounds. You deserve it, damnit.
We are a participant in the Amazon Services LLC Associates Program and may earn fees by linking to Amazon.com and affiliated sites.