Ayanna Pressley Is Behind The Push To Get Wigs Covered By Medicare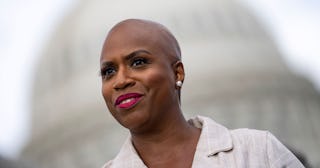 Drew Angerer/Getty
Rep. Ayanna Pressley is sponsoring a bipartisan bill that would ensure the cost of wigs would be covered by Medicare for people with health conditions that cause hair loss, such as cancer, alopecia, and others
If it's ever happened to you, you know that hair loss is an alarming side effect of a host of health conditions, from cancer treatments, alopecia, and hormonal changes from postpartum to menopause and even pandemic-induced stress to COVID-19 itself. But even though it's incredibly common for adults of all ages to have periods of hair loss, that doesn't make it feel any less traumatic when it's happening to you — something a bipartisan bill is hoping to address by way of offering financial support to those who need it most.
Back in 2018, Representative James McGovern of Massachusetts introduced the Wigs as Durable Medical Equipment Act (H.R. 3332) to Congress, which would ensure that wigs would be covered by Medicare for people battling hair loss due to health conditions or medical treatments. Wigs are often extraordinarily expensive, and while some private insurance plans will cover some or all of the costs associated with cranial prosthetics, this leaves millions of Americans who can't afford private insurance in the dust.
On Friday, October 1, the bill was reintroduced, with Rep. McGovern receiving support from fellow members of Congress, including Ayanna Pressley of Massachusetts. Since 2020, Pressley has been open about her experiences with alopecia, an autoimmune disease in which the body attacks its own hair follicles, leading to hair loss.
In a statement, Pressley opened up about why the bill is so important to the millions of Americans who experience hair loss. "Since I first revealed my alopecia diagnosis, I've been intentional about creating space and creating community for those of us who have medical conditions that impact our hair — and this bill is a continuation of those efforts," she said. "Every person living with alopecia, battling cancer, or facing another medical condition that leads to hair loss, should be able to access wigs and other head coverings. Our bill is responsive and sends a powerful message to these communities: we see you, you belong, and you deserve to be treated with dignity and respect. I am grateful to my friend Congressman McGovern for his partnership on this deeply personal and critical legislation."
McGovern was inspired to introduce the bill after meeting with the owner of a Massachusetts women's healthcare boutique that supports women after receiving a cancer diagnosis. She told him that many of the women she worked with on Medicare struggled to afford a wig, sometimes even opting for different treatment paths in the hopes of avoiding hair loss. With the average medical wig costing in the hundreds to thousands of dollars, this legislation would help alleviate the financial burden of so many Americans. Here's hoping it's passed through soon. It would surely change so many lives. Check out the full text of the bill here.