100+ Must-See Roadside Attractions That Are Totally Worth The Detour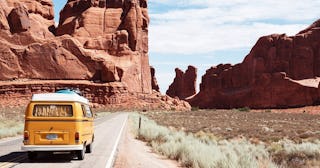 Road trips aren't like they used to be. Instead of slow rides through the countryside from home to your destination, many road trips look more like a midnight tornado ride. These days, the journey is not the destination. Traveling is all about getting from one place to another as quickly as possible so you can enjoy your final stop. But, there's something so much more relaxing for the whole fam-bam and infinitely nostalgic about taking your time and "seeing the sights." America is full of beautiful, fun and quirky roadside attractions that, quite honestly, are a must-see. These attractions typically sit not too far off the beaten path and demand a side trip, even if it costs you a few precious hours on the beach. Here are some of our favorites.
Alabama
Forkland, Alabama
Giant Tin Man off the Demopolis Highway stands more than 30 feet tall. It was designed by a rancher named Jim Bird. Birmingham, Alabama The bare-butted "Vulcan Iron Man" stands on top of Red Mountain giving the already 56-foot tall statue an even larger feel.
Montgomery, Alabama
The Hank Williams Museum is home to a number of odd things, which seems pretty fitting. Among the collection: The car Williams died in.
Prattville, Alabama
In the 1940s, someone sent the owner of Alabama's "Wilderness Park" a packet of bamboo seeds. Eighty years later, there's a 26-acre bamboo forest smackdab in Alabama. It's the perfect place to get out of the car and stretch your legs for a hike.
Alaska
Tok, Alaska
Atlas Obscura describes Mukluk Land as a junkyard turned theme park and they couldn't be more right. Located at mile marker 1317 on the Alaska Highway, Mukluk Land offers a unique collection of entertainment that includes everything from an Alaskan museum to some minigolf… and maybe even an igloo or two. Barrow, Alaska The Whale Bone Arch in Barrow, Alaska is said to be the symbolic gateway to the Arctic Ocean. The bone (which is, in fact, a jaw bone) arch stands seaside and is surrounded by other whale bone-made tools used by the Inupiats.
Lake Havasau City, Arizona
In 1967, the original London Bridge was sold, carefully dismantled, shipped across the globe and rebuilt at Lake Havasau, just a short drive from the Grand Canyon. How can you not go pay a visit?
Arizona
Holbrook, Arizona
Wanna spend the night in a giant concrete teepee? The Wigwam Village is your destination of choice, then. The rooms (and surrounding scene) have a cool western, 50s vibe that is as authentic as it gets.
Phoenix, Arizona
Flintstones' Bedrock City was the ultimate fanatic's tribute to a beloved television show. Nestled on 30 acres of desert, the "city" had replicas of buildings from the Flintstones' television show and offered pull-up sites for camping if visitors chose to stay the night. It was bought out in 2019 and turned into "Raptor Ranch," where the new owners promised to use some of Bedrock's original "prehistoric" animals. Raptor Ranch may not sound as awesome as Bedrock City (how could is possibly be?), but still boasts the most important part of a roadside attraction: Entertainment and a chance to get out of the car.
Lake Havasau City, Arizona
In 1967, the original London Bridge was sold, carefully dismantled, shipped across the globe and rebuilt at Lake Havasau, just a short drive from the Grand Canyon. How can you not go pay a visit?
Arkansas
Hot Springs, Arkansas
The Merman of Arkansas Alligator Park is just as weird and wonderful as it sounds. Yes, it's an alligator farm. Yes, it also claims to be home to a merman. (For those who don't know, that's a male mermaid.) Dyess, Arkansas Got a country music fan in your ranks? There's legitimately nothing in Dyess… except Johnny Cash's boyhood home. Until recently the home sat unused, but it was recently turned into a museum.
Ravenden, Arkansas
Ravenden, Arkansas has been home to not just one giant raven statue but three. The first two were burnt down, but the city rebuilt a third, more indestructible one. Wondering why a town needs a giant raven statue? Us, too.
California
Felicity, California
Felicity is, apparently, the unofficial center of the world. As such, the city boasts an impressive attraction with a pyramid, a church, tons of art and, yes, a plaque commemorating your trip to the center of the world. Salvation Mountain, California You might have seen the colorfully painted mountain before, it's been home to scenes from multiple movies. Whether you believe in a God or not, Salvation Mountain is a sight to behold.
Traver, California
Planted on Bravo Farms in Central California is a world-famous seven story treehouse. You're going, right?
Leggett, California
During a 100 mile stretch of Highway 101, drivers are given the chance to drive through 3 trees. The first is the Chandelier Drive-Thru Tree, in Leggett. Why wouldn't you check this out?
Colorado
Hooper, Colorado
On your way to Great Sand Dunes National Park, definitely take a detour along the "cosmic highway." Along the way, you'll find a the UFO Watchtower. It not only boasts amazing views of the night sky but is attached to a campground and healing garden. Rye, Colorado Bishop Castle is quite the architectural feat and, built of stone and iron, seems rather out of place in Colorado. (Except, not really… Colorado is "out of place" all on its own.) The castle was built by just one man and even has a dragon. Go. Please.
Colorado Springs, Colorado
Wanna see the world's largest beetle? Of course you do! If you're heading south out of Cheyenne Mountain State Park on Highway 115, keep an eye out on the right side of the road.
Connecticut
New Canaan, Connecticut
Your kids might not like this one, but your architecture geek of a spouse will love it. Built in the 1940s, this nearly entirely glass house is a gorgeous and sleek testament to architecture. At $125 a tour, it's a testament to just how absurd the fine arts world can be. Bridgeport, Connecticut The Barnum Museum is like the original Ripley's Believe It Or Not Museum. Full of weird and off-color "findings" and inventions, this free museum currently housed in a bank is the perfect stop to make with curious bigger kids.
Delaware
Dover, Delaware
Miles The Monster at Dover Speedway just calls for a visit if you're driving through Delaware. The giant statue stares angrily at visitors below while hoisting a racecar towards the sky. Little kids love Miles, no matter how mean he looks. Rehoboth, Delaware Feel like rotting some teeth? Rehoboth Beach's Candy Kitchen is a fun stop in and of itself, but the Lollipop Court photo opp just outside in the parking lot makes it a can't-miss attraction for kids.
Florida
Ochopee, Florida
Looking for a little bit of lore mixed with some science and silliness? The Skunk Ape Research Center is the perfect place to entertain and delight everyone in the family. Not only are there exhibits to teach kids about the Everglades, but there's also a petting zoo. Let them get their energy out before you make the neverending north-south trek through Florida. Weeki Wachee, Florida Got an Ariel fan in your car? The Weeki Wachee Springs mermaids have been putting on multiple underwater shows a day for roughly fifty years. After you watch them before, check out the waterpark.
Ona, Florida
Men and their castles, amirite? The small town of Ona, Florida is home to Solomon's Castle. The owner built the castle and covered it in aluminum all by himself and then lived there with his family. It's quite the tourist attraction and definitely one of the more quirky things found in Florida.
Georgia
Cleveland, Georgia
Babyland General Hospital is where Cabbage Patch Kids are born. In Cleveland, you can watch the whole process… if you must. Think "Build-A-Bear," but weirder.
Morganton, Georgia
No matter how sick of driving you might be, you'll always have the energy to climb into a tank and roll over some trashed cars, right? At Tanker Town, that's exactly what you get to do.
Plains, Georgia
Plains is home to President Jimmy Carter and, seeing as how his family is the tiny town's only real claim to fame, they won't soon let you forget it. Within the town is a giant peanut named for our president (and former peanut farmer) as well as a museum dedicated to his brother.
Hawaii
Wahiawa, Hawaii
Think Hawaii can't get any more beautiful than what you've already experienced? If you have been to the pineapple garden, think, again! The Dole Pineapple Garden Maze drops you straight into a luscious garden of Hawaiian plants. To leave? Just work your way through Guiness Book of World Records' largest maze. Kahuku, Hawaii Any idea how the Shaka (the "hang loose") sign was invented? In Kahuku you will find a statue dedicated to the inventor and learn the story.
Idaho
Wallace, Idaho
Wanna visit the center of the universe? Head to Wallace, Idaho. How, you may ask, did Wallace become the center of the universe? Simple: The mayor of Wallace deemed it so… and you can't prove otherwise.
Cottonwood, Idaho
Idaho, man. Who would expect such silliness? To spend the night in a giant wooden beagle, look no further than the Dog Bark Park Inn, in Cottonwood.
Illinois
Altamont, Illinois
Never heard of Altamont? That's okay. As far as "giant" objects go, Altamont just might take the cake. Visit the town for a look at their giant Miller Lite can. That's right… Miller Lite.
Aledo, Illinois
After you're done with the Miller Lite can, make sure to check out Aledo's giant, ten foot tall Rhubarb statue, which they unveiled to coincide with their rhubarb festival.
Hebron, Illinois
In 1952, Hebron High School won the state basketball tournament. So proud they were of their accomplishment, they painted the town water tower to look like a basketball. It still has 1952 painted on it, so it's safe to assume that they haven't won another tournament since then.
Indiana
Alexandria, Indiana
Alexandria is home to the world's largest ball of paint. Sounds pretty boring… unless you make an appointment. If you know you'll be passing through, make an appointment to visit the 4,000 pound ball of paint and add your own layer of paint. How cool is that?
Bruceville, Indiana
Think peaches are only grown in Georgia? You're sadly mistaken! The Big Peach Farm has erected a giant peach statue, just to prove the point. Their farmer's market is open May-October and the farm also boasts a pumpkin patch, corn maze and other family farm attractions. In other words, come for the giant peach, stay for the ability to exhaust your children before you continue on your journey.
Santa Claus, Indiana
The entire town of Santa Claus is one giant roadside attraction. Nestled into the Indiana countryside, Santa Claus takes its name and runs with it. There are Christmas ornament shops, a special post office, a giant Santa Statue and even a Christmas-themed waterpark. Christmas in July actually makes sense there… kind of.
Iowa
Clear Lake, Iowa
The Day The Music Died Memorial may sound a bit depressing… because it is. In 1959, after playing a concert in Clear Lake, Buddy Holly, Ritchie Vallens and The Big Bopper boarded a plane for the next destination. Tragedy struck and the plane went down in a nearby field. There are giant Holly-inspire glasses, as well as a monument with records and a guitar, that mark the site and make it relatively cool.
Columbus Junction, Iowa
Looking for a gorgeous-but-possibly-haunted walk? Look no further than Lovers' Leap Swinging Bridge. Originally constructed in the late 1800s as a way to connect two streets with a ravine between them, the bridge swings some eight stories above the ground. As with anything called "Lovers' Leap" there are multiple haunting tales of star-crossed loves and untimely deaths. We just think it's a pretty walk.
Dubuque, Iowa
If you're looking for something a tad less physically involved, we highly recommend Fenelon Place Elevator. It's on the National Historic Landmark register and has claims of being the shortest, steepest railroad in the world. It was built (three times, actually) to help one of the city's richest citizens up the hill to his house without exerting any effort. Now, for $3ish a ride, you can experience what it felt like to live in the lap of luxury in the 1800s.
Kansas
Goodland, Kansas
Ever wonder, "What would Van Gogh's Sunflowers look like if they were blown up to the size of a house?" Head to Goodland to find out. The extra large 24×36 foot artwork sits on an easel, so it's visible even from the interstate. Goessel, Kansas If you're dying to see the Liberty Bell but just can't stand the idea of going to Pennsylvania, you're in luck. There's a replica, revealed during our country's bicentennial, inside the Mennonite Heritage and Agricultural Museum. Take note, though: It's, uh, made of wheat.
Liberal, Kansas
Looking for a cheap thrill, quick stop or colorful diversion? There are a couple versions of the Land of Oz scattered across our country and Kansas is home to one of them. Unique to Kansas' Dorothy's House and Land of Oz, though, is the old farmhouse set up to look (kinda) like Dorothy's house. The attraction is also complete with Dorothy lookalikes ready to give you the tour.
Greensburg, Kansas
The Big Well Museum and Visitors' Center is home to, well, a very large well. The World's Largest, actually. Dug by hand in the 1800s to provide water to the passing railway workers, the well is some 109 feet deep and 32 feet wide. Complete with a spiral staircase around the parameter, you'll never have to worry about getting stuck inside.
Kentucky
Bowling Green, Kentucky
If you're a car fan, Bowling Green's National Corvette Museum will both make and ruin your day. Yes, it has an extensive collection of awesome cars. However, when a sinkhole opened up under the museum in 2014, it engulfed several of the museum's cars. The museum is still open… and now you can see the sinkhole for yourself. (Yay?) Bardstown, Kentucky Not far from the Corvette museum is a little city called Bardstown. Their claim to fame? The World's Largest Bourbon Barrel. All part of Kentucky's "Bourbon Trail," it's an absolute must for any bourbon drinkers. (Or fans of large things.) Weird fact: Bardstown is also home to the World's largest crucifix, if you're into that sort of thing.
Louisiana
Chauvin, Louisiana
The Chauvin Sculpture Garden is home to the personal sculpture collection of a longtime resident of Chauvin. The weird and wild collection is open to the public and sure to please snoops of all ages. New Orleans, Louisiana Louisiana is a little state that packs a big punch… especially when it comes to culture. The peak of Louisiana culture can be found in the way they celebrate Mardi Gras. Don't let the tourists fool you — the city of New Orleans would go big all on their own. For a look inside what it takes to through the perfect Fat Tuesday party, check out Mardi Gras World.
Maine
Fort Kent, Maine
If you're making a trip up or down the East Coast and are a true completionist, you must go to Fort Kent and commemorate the first actual mile of American land. There's a sign and everything. Houlton, Maine Want to see a crazy accurately to scale representation of our solar system? Turns out Maine is the place to go. The model starts with the sun in the Northern Maine Science Museum and stretches across 40 miles. Giant Jupiter sits in a field, visible from the road. Teeny, Tiny Pluto sits in an information center by itself nearly an hour away off the interstate. The scale? 1:93,000,000
Maryland
Silver Spring, Maryland
Looking for a kind of weird and wonderful museum? If you want something that goes beyond the usual Space and History stuff, try Maryland's National Museum of Health and Medicine. Among other odd artifacts: Lincoln's skull. (At least a piece of it.) College Park, Maryland Got a muppet lover in your vehicle? A quick stop at U of M's Arboretum and Botanical Garden will make them super happy. On the grounds you'll find a lovely tribute to the visionary who created the Muppets, Jim Henson. The statue feature Henson smiling and "chatting" with everyone's favorite frog, Kermit.
Massachusetts
Holliston, Massachusetts
We haven't steered you toward anything too religious… until now. In Holliston, you can find what might just be the world's largest rosary. Made of rock and chain and big enough to drive around, the rosary was built behind Holliston's Our Lady of Fatima Shrine and has become quite the tourist destination… at least for Catholics. For this rosary, you have to walk to each bead to pray. Even if you don't pray the rosary, it's an interesting place to stop and go for a walk. Rockport, Massachusetts Built and filled during 20 years of near constant work, The Paper House is quite the site. It was built mostly out of newspapers by a mechanical engineer named Elis F. Stenmen.
Michigan
Paradise, Michigan
If you're missing the beach and stuck up north, a trip to Michigan might help quell your need for "vitamin sea." One spot, in particular, will make you feel like you're back on the ocean. The Great Lakes Shipwreck Museum has all kinds of awesome sailing artifacts and explores the dangerous waters one can find in the Great Lakes. Marshall, Michigan Marshall, Michigan, is home to the American Museum of Magic. Do we really even need to explain how cool that is?
Minnesota
Kabetogama, Minnesota
Quite possibly one of the coolest photo ops in this entire article lives in Minnesota. It's a giant Walleye fish and one of the few "giant" anything that you're actually allowed to climb on. Alexandria, Minnesota Speaking of cool, giant things, Alexandria is home to America's largest Viking statue. Minnesota isn't just home to the football playing vikings but also has a large population of citizens with viking heritage. Thus, it's become home to the 28 foot tall Big Ole.
Mississippi
Gulfport, Mississippi
Adding to our collection of the "largest" things, Gulfport is home to the world's largest rocking chair. It's gigantic. Tupelo, Mississippi There probably aren't many kids who like Elvis. Must everything be about your children? No way! If you're driving through the tiny state of Mississippi and happen to find yourself near Tupelo, make sure to check out the birthplace of Elvis. The teeny home stands in stark contrast to the massive Graceland mansion that served as the last place Elvis lived.
Missouri
Bonne Terre, Missouri
For fans of giant animals, Blackwell Motors in Bonne Terre is practically a Mecca. Some of the animals are painted realistically while others sport wild and crazy paint jobs. This is a must-see stop for anyone in the area, full of animals to pose beside. Brunswick, Missouri Oh! You're looking for the "World's Largest 20th Century Pecan," too? Well, we found it in Brunswick. For an extra special treat, plan your stop to coincide with the Pecan Festival.
Montana
Browning, Montana
Looking for a roadside pick-me-up while driving through Montana? Stop at The Espresso Teepee for a good cup of joe and a photo op. Butte, Montana Remember the days of Evel Knievel? While rolling through the gorgeous Montana landscape, have your kids look up some of his crazy, death-defying jumps then take them to the site of one of his many stunts. His grave is also on that site in Butte, where he was convinced that stunt would be his last. However, like always, Evel made it out alive and ended up not needing that grave plot until 33 years later.
Nebraska
Alliance, Nebraska
There's a good chance you've actually seen pictures from Alliance's big claim to fame, Carhenge. You get the gist — It's a Stonehenge made from cars. The small set-up is surrounded by cornfields and getting there feels a little like you've entered Children of the Corn, but your kids will love running around. Hebron, Nebraska Another fun stop to make on your way through Nebraska? The "World's Largest Covered Porch Swing" in Hebron. We're not sure how it earns the "porch swing" title when it isn't, in fact, on a porch. But, it's still pretty cool.
Nevada
Boulder City, Nevada
Next time your punk kids don't appreciate you, remind them of this wonderfully strange statue. Titled, "The Toilet Paper Hero of Hoover Dam," the bronze statue stands eight feet tall and memorializes the Dam's Specialist (read: janitor), Alabam. Las Vegas, Nevada Of all the sights you can see in Vegas, don't underestimate the cool step back in time you can take while visiting the Nuclear Testing Museum. It's a great history lesson with lots of awesome artifacts from the days of the Manhattan Project.
New Hampshire
Portsmouth, New Hampshire
The USS Albacore was a research submarine that ran missions from 1953-1972. Now it's docked outside New Hampshire's biggest city and open to the public for exploring. It won't take a ton of time, which makes it perfect for a quick pullover. If you don't feel like stopping, you can see it from the street. Lincoln, New Hampshire Known simply as "The Basin," Lincoln plays host to a lovely pool of water that was carved into stone overtime from the pounding of a waterfall. It's 30 feet wide and about 15 feet deep. Sadly, you can't go for a swim, but your bookworms might enjoy reading what Henry David Thoreau had to say about its beauty.
New Jersey
Margate, New Jersey
Originally part of a marketing strategy to sell real estate, Lucy the Elephant is now just one giant tourist attraction. Blackwood, New Jersey Continuing our "giant things" theme, head to Blackwood for a look at Nitro Girl. The giant female superhero stands watch along the side of Blackhorse Pike, hawking Uniroyal tires and smiling at passersby.
New Mexico
Hatch, New Mexico
Teako's Giants of Hatch is a one stop shop. Teako is the owner of Sparky's Burgers, Barbeque and Espresso (a little something for everyone), so it's the perfect spot for lunch. What makes it even more amusing, though, is the collection of fiberglass statues that fill the parking lot. Teako has become quite the collector of giant "things" and they're all on display when you stop in to eat. Shiprock, New Mexico Also known as "Four Corners U.S.A." this is the only spot in American where, thanks to how they drew the state lines, you can stand in four states at one time.
New York
Oneida, New York
Even if you're not very religious, you can appreciate Oneida's sense of humor here. "The World's Smallest Church," Cross Island Chapel, sits atop a small island/platform in the middle of a pond, is only accessible by boat and only by special request. Lake George, New York Looking for a something fun for your smaller children? Magic Forest is a small, relatively inexpensive amusement park aimed at young kids. Aside from around two dozen rides, they also boast a petting zoo and magic show.
North Carolina
Beech Mountain, North Carolina
Yep. It's another Land of Oz. While regulars say it's a little bit worse for the wear, people still flock to the small park each year. It's only open a few days a year, so you might not classify this as a true roadside attraction. However, because it's the perfect stop on a well-planned road trip, we're going to include it. Bladenboro, North Carolina Hester Tire in Bladenboro is the proud owner of a the world's largest "real" tire — not a fiberglass replica. The tire weighs more than 10,000 pounds and is larger than the average person.
North Dakota
Bottineau, North Dakota
Yep. We're back on the "World's Largest" hunt. This time, we recommend you check out the world's "biggest" turtle and world's largest snowmobile. They're both in Bottineau because they're together to make one giant statue of a wild, fun-loving turtle named Tommy. Dunseith, North Dakota Apparently North Dakota really loves turtles. Another North Dakota roadside attraction is the "W'eel Turtle" made of roughly 2,000 wheel rims welded together. He (she?) is gigantic, somewhat climbable and just all around neat-looking.
Ohio
Dresden, Ohio
If you were a company internationally famous for the baskets you make, what kind of building would you base your offices in? If you didn't say "Obviously, a building that is also the world's biggest basket," you're just silly. Warren, Ohio Warren, Ohio, isn't just the home of Foo Fighters' frontman, Dave Grohl, it's also home to world's largest set of drumsticks. Coincidence? Uh, definitely not — the drumsticks sit in "Dave Grohl Alley" as part of a tribute to the former drummer of Nirvana.
Oklahoma
Arcadia, Oklahoma
Looking for a fizzy refreshment to cool down with before continuing on your journey? At Pops 66 Soda Ranch, you can not only select a drink from the collection of hundreds of unique bottled pops/sodas, you can even snap a picture with the World's Largest Pop Bottle. Catoosa, Oklahoma If you wanted to find a 20 x 80 foot sculpture of a blue whale, would you know where to look? We would have never guessed to look in Oklahoma. As it turns out, though, the blue whale has turned into a popular pitstop for those driving along Route 66.
Oregon
Aloha, Oregon
This one-time giant gas station attendant was turned into a rabbit and named Harvey, after the Jimmy Stewart movie. You can pay a visit to the chipper bunny by dropping by Harvey Marine off Tualatin Valley Highway. Salem, Oregon It seems there's magic sprinkled across our country. Another example is the Enchanted Forest play area in Salem. It opened in 1971 and still runs today, with regular updates. There's even a bobsled course!
Pennsylvania
York, Pennsylvania
Driving through the width of Pennsylvania can feel almost as long and tedious as driving the length of Florida. Stopping for ice cream at Haines Shoe House is one way to make it seem a little more tolerable. Harrisburg, Pennsylvania What started as a late '80s prank, has turned into a Pennsylvania mainstay. This miniature version of Lady Liberty is only 25 feet tall and was snuck into the river in the middle of the night with the help of one prankster and his friends. Now, she's staying for good. You can see her by visiting the Dauphin Narrows stretch of the Susquehanna River.
Rhode Island
Providence, Rhode Island
We looooove giant animals. Can you tell? In Providence, you can find a gigantic (58 feet) blue bug on the rooftop of Big Blue Bug Solutions. It's definitely worth a drive-by. Providence, Rhode Island While you're already looking up, check out the rooftop of the Providence Children's Museum where a ginormous, colorful dragon lives and welcomes visitors. Even if you don't have time to go inside, definitely check out the dragon.
South Carolina
Myrtle Beach, South Carolina
This is going to sound a little crazy, but this "roadside attraction" is basically the whole city of Myrtle Beach. The beach-side town's nickname is "Miniature Golf Capital of the World" meaning that driving along the strip offers plenty of chances to pull over and amuse yourselves. Pick a theme and there's definitely a miniature golf course to match. Columbia, South Carolina Known as "tunnelvision" to locals, this urban artwork is on the side of a building downtown. Painted to look like a tunnel leading straight to the beach, the art is super deceptive. There isn't a roadrunner alive that wouldn't run right into the wall.
South Dakota
Badland National Park, South Dakota
Standing outside the Ranch Store near BNP might just be the cutest of the giant roadside statues. This time around, it's a six ton prairie dog. Wall, South Dakota If you're in South Dakota, you have to go to Wall Drug. It's a rule. There are tons of giant animals for kids to climb around on for photo ops. Plus, it's just a really good distraction from the long drive through South Dakota.
Tennessee
Nashville, Tennessee
Hear me out on this. The Nashville Zoo may not seem like a roadside attraction. But, it's not a massive zoo and it's relatively inexpensive to visit because, let's face it, if you're in Nashville, you're not there for animals. One super weird feature of the Nashville Zoo, though, is the reptile display above the urinals in the men's room. Who wouldn't want to see that and snap a picture? (You know. Carefully.) Jackson, Tennessee Another cool place to let loose in Tennessee is the Rockabilly Park in Jackson. With a mural and sidewalk paying tribute to Carl Perkins and his band, it's just a little more special than your average park.
Texas
Beaumont, Texas
Your little future fireman will love, love, love this super cute attraction in Beaumont. The world's largest fire hydrant sits downtown, standing 24 feet tall and covered with dalmation spots. So cute! Paris, Texas Wanna take a guess at what kind of roadside attraction you'll find in a town called Paris? If you guessed "Eiffel Tower," you'd be right. This 70 foot Texas edition is adorned with a cowboy hat… just in case you forget where you are. San Antonio, Texas If you're feeling like a real cowboy as you drive across the gigantic state of Texas, you're probably in need of some boots. Even the world's tallest man couldn't rock the world's largest cowboy boots. They sit outside North Star Mall, though, and we bet you can find a good pair of Justin's inside.
Utah
Cedar City, Utah
Honoring Utah's nonexistent maritime tradition, someone built a lighthouse right off I-15 (at exit 57). It doesn't function, but it's still a fun thing to whiz by on your way to some place else. Like, literally anywhere other than Utah. Orem, Utah There's not a whole lot happening in Utah outside Salt Lake. However, Orem is home to a blender company and that company decided to have a little fun with the entrance to their building. Thus, the world's largest blender was created. In case you're wondering, it's non-operational.
Vermont
Barre, Vermont
Part world record break and part garden, the world's largest zipper sits in Barre and is made from local granite. If you're in the area, it's worth the stop. But, like many roadside attractions, if you build your hopes up too big, you will be disappointed. Keep your expectations in check. The installation is titled "Unzipping The Earth" by artist Chris Miller and is both quirky and pleasing to the eye. Randolph, Vermont Quite possibly the most gorgeous man-made roadside attraction on this list comes out of Randolph and features two giant (12-13 feet) whale tails protruding from the Earth. The statue, named Reverence, was built in 1989 and took roughly 36 tons of black African granite to complete. It's beautiful and simplistic and the perfect way stop-off on your whale watching adventure.
Virginia
Natural Bridge State Park
Any chance you're given to explore a state or national park, it's highly recommended that you take it. But, Virginia's newest state park, Natural Bridge, is a no-brainer. The park offers a trail that runs a little over a mile and includes views of not only Cedar Creek, but also the gigantic natural bridge carved out by Cedar Creek. It's a cool and gorgeous way to spend an afternoon after spending all morning in a car. Bealeton, Virginia Sitting just outside the Rollerworks Family Skate Center and visible from Highway 17 is a giant roller skate. It may not be the world's largest, but at about 10 feet tall, it's still hard to miss.
Washington
Sekiu, Washington
We're not sure what to make of this fish statue, but that might just be what makes it the most perfect of roadside attractions. Right next to the "Sekiu welcomes you" sign you'll spot a statue of a fish named Rosie. That seems normal enough to read, but when you witness it firsthand, you'll understand why it's become quite the attraction. Rosie was actually placed as the girlfriend to a neighboring town's welcome fish, Gil. To drill home that this fish was female, they put her in a pink bra and skirt. You need to see it to believe it. Seattle, Washington You may not think of Seattle as being particularly "country." However, when a gas station closed and abandoned a giant set of cowboy boots and cowboy hat, Seattle decided to save them. The brightly painted structures now reside in Oxbow Park.
West Virginia
Point Pleasant, West Virginia
Nearly every touted roadside attraction in West Virginia has a bit of an eerie twist to it. To be fair, though, West Virginia is relatively small and already such a gorgeous drive. If you have kids that like things that are a little creepy, they might enjoy the gigantic statue of Mothman. Chester, West Virginia Ha! We found one not at all scary or foreboding roadside attraction in West Virginia. It's the world's largest teapot! Before it became a teapot, the structure served as a root beer advertisement and a golf course clubhouse.
Wisconsin
Superior, Wisconsin
While driving through Wisconsin, you might find yourself thinking, "Dang. I wish there was a giant totem pole I could visit." As luck would have it… there is. And, to make it even better, this totem pole is made of chainsaws. To find out why, you're just going to have to pay it a visit. (There's also a museum, if you're interested.) Wisconsin Dells, Wisconsin Kind of like a kid-friendly, nerd-fueled escape room, Wisconsin Dells' Wizard Quest offers a one of a kind scavenger hunt experience. It starts at $16.99 a pop, so can feel a little pricey for bigger families. However, it's still an excellent stop that will leave your kiddos with tons of memories and spark their creativity.
Wyoming
Afton, Wyoming
Afton isn't home to the only antler arch, but it does hold the title for the largest antler arch. If you're visiting Yellowstone, Afton is a town worthy of a stop or stay — It's exactly what you'd expect from a little town in the great state of Wyoming. Devil's Tower, Wyoming Standing tall and solid like it's shooting straight out of the ground is Devil's Tower. The gigantic rock was pushed above the surface roughly 50 million years ago and now stands 867 feet tall, from its base to the top. It's pretty cool just to look at it, but movie fans might enjoy knowing that it featured heavily in Close Encounters of the Third Kind.
This article was originally published on