Comedian Rob Delaney Marks 19 Years Of Sobriety In Honest Post
by Cassandra Stone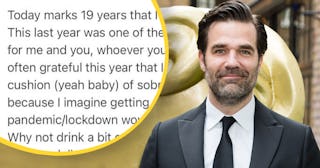 Rob Delaney/ Instagram and Jeff Spicer/Getty
Rob Delaney acknowledges how difficult staying sober during the pandemic can be
Comedian and Catastrophe star Rob Delaney shared that he's officially 19 years sober today in a post to his Instagram account. He also acknowledged the unique struggle of remaining sober during a global pandemic, a struggle that many people can likely relate to through the last 11 months.
"Today marks 19 years that I've been sober," the post reads, in Notepad format. "This last year was one of the wildest so far, for me and you, whoever you are. I was often grateful this year that I had a big cushion (yeah baby) of sobriety behind me because I imagine getting sober during the pandemic/lockdown would be very hard. Why not drink a bit extra or smoke the odd doob to dull the drudgery? Not to mention the grief and confusion."
Delaney recounts his own struggle with addiction and the rock bottom moment that led to his sobriety. "19 years ago today I was in jail in a wheelchair with 2 badly broken arms," he writes. "I'd driven a car into a building while blacked out."
While no one aside from Delaney was hurt, he says that the accident was what helped him get sober after multiple failed attempts.
In 2018, Delaney shared that his youngest son, Henry, died from cancer at just two years old. Ever since, he's shared semi-regular updates on his grief and has been honest about the process in order to help other bereaved parents.
A year after Henry's death, Delaney spoke at an engagement for The Rainbow Trust, a charity that helps families with seriously ill children. He told the crowd he's being honest and not trying to play it "cool" or be inspiring is for the sake of fellow grieving parents and siblings. "I've been sad and angry and I am telling you that just in case somebody else who has suffered a terrible loss reads this — so they don't feel like some asshole from TV has it all together. I am a lifetime work-in-progress."
He's also always been open about his alcoholism and sobriety. After losing Henry, he said if he hadn't been sober, the grieving process would have been much worse.
"As it was, I squeaked by," he said at the time. "Sobriety allowed me to be a reasonably good dad, husband and worker through it all. (If you average it out. I think.) Sobriety allows me to grieve fully, and grief is an expression of love."
Today, as he marks his 19th year without alcohol, Delaney said at the time of the accident, his compulsion to drink had grown "terrifying." He said his alcoholism was so bad, he worried he might have schizophrenia.
"Blessedly, there is another way. My deepest gratitude to those who help me along the way. Love to you all."