Robin Williams' Daughter Got The Genie On That Viral Disney Instagram Filter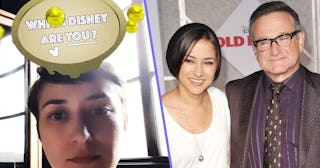 Zelda Williams/Twitter and John Shearer/Getty
Robin Williams' daughter Zelda got a big surprise when she tried the Disney character Instagram filter
Anyone who's been on Instagram in the last few days has to have seen a flood of people posting videos with a new filter that circulates through Disney characters and eventually settles on one in a bubble above your head, revealing what character you are. It's a little bit of silly fun, and everyone from your friends to your family to your coworkers to celebrities is getting on the Disney character train. That includes one Zelda Williams, daughter of the late, great Robin Williams.
Zelda decided to try the filter that everyone's been trying, and posted the video to her Twitter so we could cherish it for long after the 24-hour limit on Instagram stories. And y'all, we'll be cherishing it forever, because this video is the sweetest reminder of the love between Zelda and her father.
In the video, Williams waits with a look of anticipation on her face as the bubble rapid cycles through tons of Disney characters. Finally, though, it settles on one: The Genie from Aladdin, a character who was famously voiced by her dad in the animated version of the film. The sweetest thing is watching her realize what's happened. Her face suddenly breaks out into an absolutely joyful laugh, and it might just be the purest, best thing on the internet right now.
The video has amassed millions of views on Twitter, and I'd be willing to bet a good chunk of those are people just like me, who have watched it over and over to see the joy light up in Williams' eyes. It's honestly inspiring. There is some good left in the world, and it's right here in this sweet Twitter video.
It's also making fans of the late Robin Williams just a little bit (OK, a lot) emotional.
People are also taking note of something a little unexpected here: How much we can see Robin Williams in Zelda's face, especially when she laughs.
Some people even think her dad had a hand in her getting that result, and honestly? Anything is possible. We'd love to believe Robin Williams is somehow able to say a quick hello to his beloved daughter, even if it's through a silly Instagram filter.
Basically, what started out as another silly Instagram trend has ended in Disney fans everywhere sobbing. It's sweet, it's beautiful, and it's a little bit of a heartbreaking reminder of what we lost when we lost Robin Williams. But above all that, it's a reminder to cherish his memory.
This article was originally published on