Robin Williams' Daughter Found Sweet Photos Of Her Dad While 'Isolation Cleaning'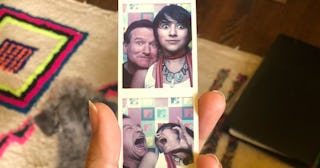 Zelda Williams/Twitter
Zelda Williams is giving us all a reason to smile right now
While trying to stay busy during this national time of self-isolation, Zelda Williams, only daughter of the late, great Robin Williams, found a reason to smile and generously shared that reason with us. She says she was "isolation cleaning" and found a strip of old photos of her posing adorably with her dad, and honestly, we all could use a little Robin Williams-related levity right now.
"Isolation spring deep cleaning is turning up some fun old gems," Zelda writes next to the photos in a Twitter post.
The strip of photos show the two of them smiling and posing in an adorably hilarious way. Zelda clarifies in later tweets that these photos are, in fact, in the TRL photo booth at MTV. Ah, the nostalgia!
Robin died in August 2014 at the age of 63 after suffering from Lewy Body Dementia, a type of brain disease that affected his thinking, memory, and movement control. It's the second-most common type of progressive dementia after Alzheimer's disease.
Earlier this year, Zelda posted a video of herself while she was having fun with a Disney filter on Instagram that tells you what Disney character you are. Her results were just a little more special than most.
As for the strip of old photos she shared this week, many people told her that it was just the bright spot they needed on their timelines to break up the anxiety-inducing pandemic coverage.
Zelda has opened up before about how difficult it is to grieve her father with the rest of the world, so we should all be extra appreciative of her generosity when she shares personal tidbits like this.
In 2018, she shared a message before his birthday describing the mixed emotions she felt that day. "It's that time of year again. Everyone who has dealt with loss knows the pain of certain anniversaries, moments full of memory that come round like clockwork and usurp all others, no matter how hard you may try to prepare for or avoid them," Zelda captioned a father-daughter photo, which she has since deleted.
"Thank you for loving him," she said at the time. "Thank you for supporting him and his life's work. Thank you for missing him. I do too."
She's previously encouraged Robin's fans to perform acts of kindness in honor of her dad — like volunteering at a local homeless shelter and making homeless aid backpacks, a cause near and dear to her dad's heart. She also encourages everyone to "creatively swear a lot" and most importantly, spread laughter and kindness.