The Rock Delivers Adorable Birthday Message To Friend's 91-Year-Old Mom
by Christina Marfice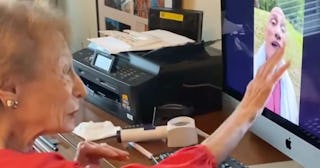 The Rock/Instagram
This video is proof that The Rock is the best celebrity, hands down
If you don't already love The Rock, you must be living under, well, a rock. Dwayne Johnson, the actor, doting father, and all-around quality human being is constantly giving us new reasons to stan him, not that we actually need any more. And yet, over the weekend, he proved once again what a great guy he is by connecting with a friend's 91-year-old mom to give her a special birthday message.
The Rock shared a video of the sweet moment on Instagram, where he wrote that his friend, director Andy Fickman, asked for the birthday message for his mom, Ruthie. And The Rock, being the incredibly sweet man that he is, seemed happy to oblige.
"Celebrating Ruthie's 91st birthday and what a beautiful, inspiring LIFE she's lived," he wrote. "As say this all the time and I mean it from the heart ~ stuff like this is truly the BEST PART OF MY FAME."
In the video, The Rock can be heard singing "Happy Birthday" to Ruthie as she covers her mouth in shock and then claps and laughs as he finishes the song.
"Happy birthday, Mama Ruthie!" he says, blowing a kiss at the camera. "This is your other son. Your favorite son. I hope you're doing great."
The Rock continued, "I hope you're feeling loved and celebrated, as well you should. I am celebrating you from afar."
All throughout the message, The Rock kept blowing kisses at the screen, while Mama Ruthie looked absolutely delighted. I mean, obviously. Who wouldn't be?
"I love you, and happy, happy birthday," The Rock ended his message. "Please give my brother Andy a big hug and a slap on his naughty behind. OK Mama Ruthie, I love you."
If that isn't the sweetest thing you've ever seen, I don't even know what to tell you. You should pay more attention to The Rock, for starters. This isn't the first time he's done something like this for an adoring (older) fan. Last year, he sent a video to a 100-year-old fan to help celebrate her big birthday, and honestly, whenever I'm feeling down, I just turn on that video and listen to Grandma Grover scream, "THE ROCK?!" and then make happy squeals, just like any of us would in her shoes.
In conclusion, Dwayne "The Rock" Johnson is the celebrity who wins the internet today. I'd tell him to keep it up, but I already know he will.