There's Rose Gold Disney Jewelry And You're Going To Want It All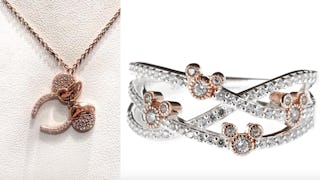 Images via Rebecca Hook / Disney
This rose gold Disney jewelry is everything
Disney is really embracing the rose gold trend. From cupcakes to macarons, specialty Minnie Mouse ears and sequined backpacks with matching wallets, all of the park's must-haves lately have been in millennials' favorite color. The only problem is that you can't get the foods outside of the parks. And in the real world, it's also a little frowned upon to wear your rose gold Minnie ears. They don't exactly go with a nice office cardigan, you know?
But for those of us who want to show our Disney love both in and outside of the parks, the solution is here. Disney jewelry designer Rebecca Hook has taken those Minnie ears and turned them into a appropriate accessory. Disney lovers, grab your wallets, because rose gold Minnie ears necklaces are here.
Look how tiny and perfect and delicate it is! That will blend right in with your business-casual attire, and you'll have the magic of Disney with you all day long. Excuse me while I buy them for myself and all my friends and family.
But if the Minnie ears aren't your style, you can still get on the rose gold Disney jewelry train. Hook has a whole line of very adult Disney jewelry offerings, including several in that oh-so-trendy color.
Anyone who knows me will bookmark this precious criss-cross ring, dotted with tiny rose gold mouse ears, ready to bust it out next Christmas.
For those who want to be a little less subtle about their Disney love, there are these rose gold combination castles and mouse ears, which come in earrings or a necklace.
Want something to celebrate your love with your significant other? There's a Disney piece for that, too. Check out this rose gold kissing-Mickey-and-Minnie pendant.
Unfortunately, the new Minnie ears necklace doesn't appear to be available just yet. But keep an eye on Hook's Disney jewelry page, and you could be one of the first to snag the newest Disney must-have. And in the meantime, you can just stock up on all the others.
This article was originally published on