A Mini 'Rosebud Motel' Has Popped Up In Seattle And It's Adorable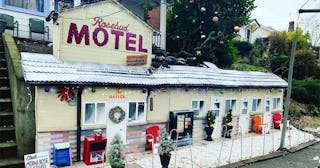 shelbysays_/Instagram
A small-scale replica of the Rosebud Motel from Schitt's Creek has popped up in a neighborhood in Seattle, Washington
A picture-perfect replica of the Rosebud Motel from Schitt's Creek has popped up in Seattle, Washington and all the props go to the masterful superfan that made the Rose family's home come to life. The house first made waves when a passerby snapped a photo and shared it on Reddit and now people are flocking to the Seattle spot to take photos with their favorite Schitt's Creek backdrop.
It appeared as if the makeshift Rosebud Motel was built in front of someone's personal home and after the image made the rounds on Reddit, the owner of the home and the creator of this masterpiece came forward.
"Hi….my name is Richard….its my house," Richard — who was later identified as Richard Knowles and lives in the Queen Anne neighborhood in Steattle — shared. "It took about a month to build this covid project. To be clear on the size, its 25 feet wide and 12 feet tall. Everything is new except the roof. Its almost an exact replica of the Rosebud motel minus one room from the office over to the right. I just wanted to bring some joy to a not so joyous year and it has seemed to work."
Richard says he also makes a replica of the Bates Motel at Halloween and invited all Schitt's Creek fans to come on down and snap a pic. Though it's a smaller-scale version of the famous TV motel, the attention to detail like the tiny vending machine and the random assortment of chairs outside the motel rooms are what really make this replica shine.
For reference, here's the Rosebud Motel as it appears on the show.
And here's Richard's little replica.
The show encouraged their fans in Seattle to trek out to the destination (masks on, of course) and tag them in their #RosebudSeattle photos.
The show may have ran its course, but we'll always have Schitt's Creek superfans to keep the spirit of the show alive. As David Rose and Stevie Budd would say, "Best Wishes" and "Warmest Regards."