Harry And Meghan's Wedding Flowers Were Made Into Bouquets For Hospice Patients
by Christina Marfice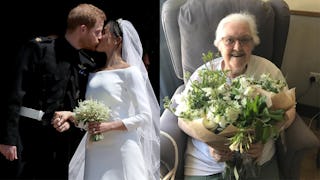 The way the royal family made use of all those leftover flowers will bring tears to your eyes
If you watched the royal wedding, you surely took note of the stunning floral arches and arrangements, designed by florist Philippa Craddock made from all-white lily of the valley, forget-me-nots, sweet pea and more. The flowers made up cascading arches that were placed throughout St. George's Chapel, for guests and the royal couple to walk through. While it was beautiful, that was a lot of flowers.
So what happens to all those flowers after the guests have gone home and Prince Harry and Meghan Markle have jetted off on their honeymoon? We just learned that the royal family turned them all into bouquets, which were then gifted to patients at St. Joseph's Hospice in London.
"We are so excited and honored to receive this wonderful gift. It really feels like we're part of the royal wedding," Nigel Harding, Chief Executive of St. Joseph's Hospice, said in a statement provided to Scary Mommy. "The flowers are simply stunning and our patients were both surprised and delighted to receive them. A huge thank you to Philippa Craddock and her team and of course to the Royal bride and groom."
They had plenty of gorgeous blooms to work with. The Chapel and entrance were full of the lavish arrangements.
Claire Learner, PR & Communications Manager for St. Joseph's Hospice, said many of the patients there are fans of the royals, and gathered together on Saturday to watch Harry and Meghan exchange their vows.
"We had the wedding on at the hospice on a big screen for everyone to watch if they wanted to and I believe that many of them watched it," Learner said. "St. Joseph's has a long history of royal connections, having been visited by Queen Elizabeth, Princess Diana and most recently Prince Edward who came to tour the gardens in 2015."
But that's not the only connection the hospice has to the royal family. The woman in the photo posted to St. Joseph's Facebook page is 89-year-old Pauline Clayton, a respite patient who helped create Queen Elizabeth II's wedding dress in 1947. Clayton was only 19 at the time, working for royal dressmaker Norman Hartnell, and she was one of several women who worked tirelessly to embroider the train on the dress.
"We were on rationing then so we weren't allowed to sew on any embellishments so the train was embroidered," Clayton remembered. "There were four of us girls working on it and we earned 49 and a half hours overtime doing that! I really liked working for the Queen Mother, and I helped to make many of her dresses during my 20-year career with Norman Hartnell. With my royal connections, it's such a lovely coincidence to be at St. Joseph's and receive these wedding flowers. They are beautiful and very special."
Leave it to the royals to come up with such a beautiful way to make sure those flowers are appreciated for much more than just Harry and Markle's wedding day. What a kind and beautiful gesture, and a way for even more people to be touched by the beautiful ceremony the new royal couple had.
This article was originally published on