The Royals Are Hiring A New Housekeeper Who Won't Blab To The Media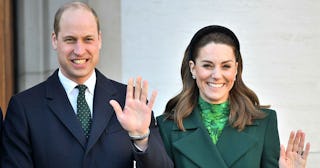 Samir Hussein/WireImage/Getty
Will and Kate are hiring a new live-in housekeeper who has "discretion"
Attention U.K. readers, if you like the royal family and tidying up, boy do Prince William and Kate Middleton have the job for you. The royals are looking for a new housekeeper, and more specifically, a housekeeper who is "discreet," and by that I think they mean, do not talk to the tabloids.
Unclear if their current housekeeper quit, retired, or was kicked out for not being discreet enough (I'm not saying a housekeeper told The Sun that Prince William had COVID, but the news got out, didn't it?), but the Duke and Duchess of Cambridge need a new housekeeper. In a job listing posted to the official Royal job hunting site (yes, a real thing, apparently), the Housekeeper would work for the Duke and Duchess of Cambridge at their primary residence at Kensington Palace. The applicant would report in to the "Senior Housekeeper" and Will and Kate are looking for someone who is a "self-starter who also enjoys working collaboratively."
"You will have an organised approach and take pride in what you do," the listing explains. "You will be able to manage a varied workload, show initiative, be content to work flexibly, including being able to travel."
Though the full-time job would be based in London, apparently the housekeeper should be ready to "assist" in all "Royal residences," meaning, you could be traveling with the royals, heyoo! Or more likely, you go and clean Anmer Hall before Will, Kate, and the kids arrive.
Most importantly, the housekeeper must maintain "confidentiality" and exercise "discretion at all times." So, if you're gonna text your friends "Lol omg Will eats ice cream like, every night," uh, you're not gonna get hired.
The job listing will expire on Saturday, November 7, 2020 and to apply, one needs to be able to legally work in the U.K. Also, The Daily Mirror reports that the salary is £19,140 a year, which is roughly $25,000 a year in U.S. dollars and if that's correct, I feel like the royals can afford a bit more, no? I guess the salary is commensurate with the perks which include free room and board at the Palace and all meals and travel expenses included.
May the best royal housekeeper win.
This article was originally published on