Ryan Reynolds Explains Why He's In Love With Blake Lively To Humans Of New York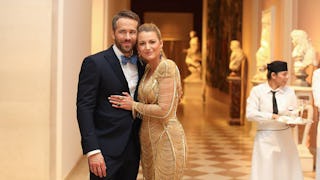 Image via Humans of New York/ Facebook
Ryan Reynolds talks about his wife to Humans of New York
Ryan Reynolds and Blake Lively are just so perfect, you almost want to hate them. But then they open their mouths, and you realize how damn likable they are.
The couple has been married for since 2012, and have two kids. Lively gave birth to their first child, James, in December 2014 and their second child in September 2016. The couple hit the red carpet at the Met Gala last night, and stopped to be photographed by Humans of New York. The page shared the photo and a quote from Reynolds:
"She always responds with empathy," he begins. "She meets anger with empathy. She meets hate with empathy. She'll take the time to imagine what happened to a person when they were five or six years old. And she's made me a more empathetic person. I had a very fractured relationship with my father. Before he died, she made me remember things I didn't want to remember. She made me remember the good times."
Reynolds has never kept his appreciation for his wife a secret. After he witnessed Lively giving birth to their first child, he had some advice for other dads: "Just do the dirty work, man. You gotta do the diapers, you gotta do the middle of the night thing. I mean, your wife — a human being will exit your wife, so she's done enough. Just change the diapers and do all that stuff."
Reynolds has become and unlikely parenting guru. He always keeps it real, and his Twitter handle should be required reading for parents. "I still check on her in the middle of the night and put my fingers under her nose just to make sure she's still breathing," he said of his infant daughter. "Is that insane? I feel like it might be a little bit insane."
"I knew he would always be my best friend for my whole life," Lively said of Reynolds in 2016. "That was the biggest thing to me. I'd never known anything like the friendship that I had with him. I could like him as much as I loved him."
These two are serious #relationshipgoals.