Ryan Reynolds Calls His Kids 'Thankless Assholes' And We Can Relate
by Madison Vanderberg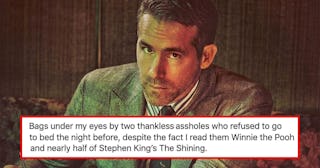 Ryan Reynolds/Instagram
Ryan Reynolds smolders in new Aviation Gin ad, but it's his snarky dad captions that steal the show
Ryan Reynolds and Blake Lively are our favorite Hollywood couple. Not only do they constantly put each other on blast on social media (but like, in a fun way), but Reynolds is always trolling his own kids online too (but like, in a fun way). Reynolds shared a peek at his, um, aggressively sexy and rugged new Aviation Gin campaign, but it's his snarky caption about his kids that has truly captured our hearts.
"LOVE this @AviationGin shoot with the legendary @guyaroch," Reynolds wrote alongside the images. "Hair by @serafinosays and styling by @joseph.episcopo. Bags under my eyes by two thankless assholes who refused to go to bed the night before, despite the fact I read them Winnie the Pooh and nearly half of Stephen King's The Shining."
Those "thankless assholes" are Reynolds and Lively's adorable daughters James, 4, and Inez, 2.
If you're new to the Reynolds bandwagon (welcome), we suggest you follow him on Twitter where he is serving up big DGAF dad energy on the daily.
There are plenty of couples who love to shower their social media followers with extremely earnest diatribes about love, marriage, and what it means to be a parent (you know the type), but Reynolds' and Lively's internet "schtick" is whatever's the complete opposite of that. When Reynolds isn't throwing his kids under the bus, he's doing it to his wife, like when he wished Lively a happy birthday and then only shared photos where her eyes were closed.
But in all seriousness, Reynolds and Lively — who is pregnant with their third child — are totally loving and well-adjusted parents IRL. Despite Reynolds constant online jokes, the two are committed to raising their daughters privately and outside the, uhm, wonders of Hollywood.
"Ryan had a nice, normal upbringing, and we want our kids to have the same normal life that we had," Lively told Marie Claire about her family in 2016. "We don't ever want to rob them of what we had because then we'd feel really selfish."
Oh, and in case you take offense to Reynolds' original comment about his kids being "thankless assholes," Lively is very much on board with it.
"Feeling very happy about my life choices right about now," Lively wrote under her husband's post.
*swoons forever*
This article was originally published on