Watch Samuel L. Jackson Read 'Stay The F*ck At Home' On Jimmy Kimmel
by Cassandra Stone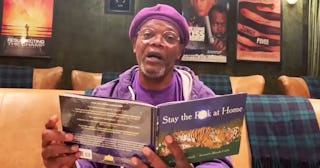 Jimmy Kimmel Live/Youtube
Samuel L. Jackson has something important to say to anyone who isn't doing social distancing properly
During last night's episode of Jimmy Kimmel Live!, Samuel L. Jackson joined the show from his home theater to read a nice little bedtime story. In the style of the popular children's book "Go the F**k to Sleep," Jackson edited his own version a bit to make it a little more…current.
In his typical style of profanity and hilarity, Jackson stressed the importance of social distancing with a follow-up book called, "Stay the F**k at Home."
"Stay the f— at home. Corona is spreading, this sh– is no joke," Jackson reads. "It's no time to work or roam. The way you can fight it is simple my friends, stay the f*ck at home. Now technically I'm not a doctor. But motherf*cker listen when I read a poem. So here I am, Sam F*cking Jackson, imploring you: Keep your ass at home. If you want things to get back to normal, don't panic. Just use your dome. Wash your hands, stop touching your face and stay the f*ck at home."
The "book" goes on to urge people to avoid going to the casino and seeing friends, and thanks everyone for "doing your part to flatten the curve because that shit is steep."
Basically it's the bedtime story all of your irresponsible friends and family members need to hear, so go on and send them this link.
Jackson explained earlier in his interview with Kimmel that the idea to do this actually came from the original book's author, Adam Mansbach. He reached out to Jackson recently with a new version, which Jackson had previously read for an Audible.com audiobook.
https://www.instagram.com/p/B-cD6Rag9Zx/
"People thought that would be the perfect time to bring that back," Jackson told Kimmel. "I got a call the other day from Adam Mansbach, the guy that wrote the original 'Go the F**k to Sleep,' and we talked about what we could do remind people of social distancing and where we are in these times now. So he wrote a new poem, I read it and we want to present it to the public right now."
And there you have it folks, the wake-up call so many people still need right now (sad but true) presented in a way that brings a little levity to the severe situation this vicious pandemic has unleashed.
"I love it," Kimmel says. "You got another classic on your hands."