Top Things To Do in San Antonio With Kids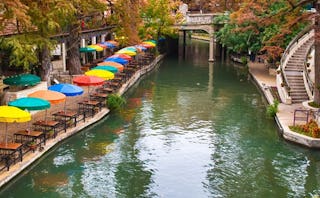 A surprise to many, San Antonio, Texas is actually a great place to spend time with the kids. We are a family of four and have lived here for nearly three years. We love our city so much, we recently had a 10-day staycation. Yet we still didn't get to do all the things there are to do! Here are our top picks for things to do when you bring the kids to San Antonio.
Getting Around San Antonio
If you're staying downtown, you might not need a car everyday, but you'll need one in order to do all of the great hiking and exploring outside of the city limits. Hertz has pickups at the airport and around the city.
What to Experience in San Antonio
Yes, you're here to see The Alamo, but there are exciting things to plan for that are unique to San Antonio. There's a Tex Mex bike tour, kayaking the river front and trail riding on rescue horses— experiences that are just too cool for the family to miss.
The River Walk is 13 miles of winding river passages one level below the downtown streets. Families walk along the San Antonio River, looking at beautiful bridges, artwork, dance shows, little ducks swimming by, and beautiful plants and flowers. There is an abundance of restaurants, all with outdoor patios, serving a variety of expensive or inexpensive cuisines and some child-friendly restaurants, such as Rainforest Café.
A popular activity is to take a river cruise – a small boat will take you on a short cruise, during which you will hear some entertaining stories about the history of the River Walk and some of the buildings surrounding it. You can choose to stay in one of the many hotels on the River Walk but keep in mind that night life is quite lively.
Don't miss the nearby fort Alamo, where in 1836, the Texans fought against Santa Ana's army. Carriage rides are available at night to take families around the Alamo and downtown. What better way to give your little ones a sense of San Antonio than delving into its history?
For families who love the outdoors, Lost Maples (an hour and a half drive north of San Antonio) offers a great place to hike and/or camp. Visitors enjoy picnicking, camping, backpacking, sightseeing, hiking, photography, bird watching, fishing, swimming and nature study. Most popular in November, this is the only park in Texas where you can see changing leaves.
There are several hiking trails available but these might be difficult for very young children. Still, the views from the top of the hills are amazing so it's worth it if you have older kids who can manage the hike! There are no restaurants around but there is a small grocery store nearby to aid with your picnic supply.
https://www.instagram.com/p/BxujITDnfRD/
The Enchanted Rock is located in the Enchanted Rock State Natural Area near Fredericksburg (about an hour and a half north of San Antonio). This 500-foot-high dome of pink granite is the second largest of such formations in North America. Reported to be one billion years old, it's featured in many Indian legends. It is truly an impressive site and extremely popular with hikers. Anyone, young or old can hike this quite easily, but it does take some time. This hike is not to be done in the summer, unless the heat doesn't bother you!
Be sure to bring a picnic lunch and lots of water. Families will enjoy lunch on top of the Rock, which is very flat and offers the most amazing view of the Texas Hill Country. Choose to camp near the Rock, travel back to San Antonio, or stay in Fredericksburg. This small town full of restaurants, boutiques, antique shops and wineries, where mom and dad can enjoy wine sampling for $10.
Amusement Parks
Sea World offers a full-day of sea animal shows, encounters, and a great water park – Aquatica. It is a great place to spend the day during hot days in San Antonio as most shows include some water splashing on the audience and there is a water park. You can book a behind the scenes tour, feed dolphins, and even stay overnight. There are also many roller coasters, as well as a playground, a splash park for toddlers, and Sesame Street rides for younger children. Families with younger kids will particularly enjoy this park. While Sea World San Antonio opens year round, the operating hours are seasonal so keep an eye on the site before your visit.
The Mexico-themed amusement park, Six Flags Fiesta Texas, is on the small side but has rides for many different ages (adults included!) and abilities. Visit the water park if you need help cooling off on a hot day. Our kids enjoy all the carnival games at the park as many guarantee prizes. At night, there's a fabulous firework/laser show telling stories about Texas. The park is particularly popular around Christmas time as there are less crowds, kids can meet Santa Claus, there's yummy hot chocolate, and there's a mock ice-skating rink.
More Things to Do
Natural Bridge Caverns offers a full day of fun for older kids. You can start by exploring the caves – this is fun to do in the winter as it's warm and cozy inside. The caves take about 90 minutes to go through on a guided tour. Very young children might be less fascinated and more prone to getting too hot in the caves though, so if you've got tots, give this one a miss.
Outdoors, there's lots to do between zip lining, rock mining and a ropes course for all ages. Grab a bite to eat in the lunch area and explore the gift shop. Or if you're up for more excitement, there's a drive-through safari adventure next door.
The San Antonio Zoo is located on the grounds of a beautiful park with a nearby free Japanese garden popular for pictures. The zoo is full of exotic birds, monkeys, reptiles, and a great selection of animals. It has many animals in a rather small space, so small children are able to walk most of the grounds without getting too tired. A great attraction is the butterfly garden. It's the only butterfly garden I've been to that allows you to actually touch butterflies as much as you want. They encourage it! There is a great train ride around the park outside the zoo that will also take you to the Witte museum.
Families love the Witte Museum, the city's science and natural history museum. Although it's quite small, it will occupy your kids for hours. It has beautiful grounds and several buildings. The younger kids will enjoy the HEB Tree house with many hands-on activities. Older kids will probably sway more to the science and natural history exhibits. Some exhibits are permanent, while others are temporary. There's a building dedicated to Texas history and has many things for kids to touch, play with, sit on, etc. Restless kids can run around the outdoor area and climb the rock wall or ride the aerial bicycle.
Another amazing museum for kids you'll want to check out is the DoSeum. The interactive museum is just down the road from the Lions Field near downtown San Antonio and has exhibits focus on innovation, imagination and the great outdoors. The Force Course will teach the whole family about power and motion while the Sensations Studio will appeal to even the littlest senses of smell and touch.
If it's a warm enough day, visit Splashtown San Antonio. This place is awesome for an afternoon cool-off as one of the best waterparks in San Antonio. You can relax in a cabana while the kids play in the wave pool or glide down the many tube water slides.
But if you're really up for seeing something supernatural, check out the Guinness World Records Museum. There's a "Ripley's Believe it or Not" Haunted Adventure and TombRaider 3D, plus tons of unbelievable exhibits that will have you and the kids scratching their hands wondering how any of it is possible.
Family-Friendly Restaurants in San Antonio
Big'z is a great family-friendly burger joint in town. It offers made-to-order burger, fries, salads, chicken fingers, hot dogs, and fish sandwiches. It has giant kids meals. Mom and dad can get beer and wine with their meals. The burgers are giant, have multiple toppings available and are angus beef. The best reason to go – the place has mainly outdoor seating and a giant backyard with trees where children run to play. Some outdoor toys are always provided, but most families bring their own soccer balls, hoops, footballs, bubbles, etc.
The Cove is another great spot to eat. There's an outdoor space for the kids, an awesome bar, live music on many nights. Best part — it's a totally dog-friendly place so whether you're bringing your own dog or petting other people's pooches, it's just a great restaurant in San Antonio for families.
Best Places to Stay in San Antonio
Very popular with local families, the San Antonio Hill Country Resort and Spa offers a beautiful hotel, spa, and a lazy-river pool when you just want to cool off in the summer and enjoy the beautiful Hill Country (600+ acres). Dads can enjoy the 36-hole golf course, kids can splash about in the six acre River Bluff water park and mom can relax in the luxury spa. Choose from seven restaurants to eat at. The resort also has a kids' camp and there's campfire s'mores at night.
If you're looking to stay more downtown, Crockett Hotel is a beautiful, historic hotel with unique touches throughout. There's a free breakfast buffet for the family to fuel-up for all the fun ahead. It's also super close to The River Walk and The Alamo. Also the Gunter Hotel San Antonio is right downtown and oozing with Texas charm.
If no hotel is kid-friendly enough for you, and you need your own house or apartment (mini kitchen? kids get their own bedroom?), Airbnb has some of our all-time favorite San Antonio charmers — from a high-rise on the river to a spacious townhome to a craftsman style house with room for everyone.
Best Things to Pack For a Trip to San Antonio
When traveling with the kids, supremely wearable outfits are a must. This is extra true for a town like San Antonio, where you'll leave your hotel in the morning and likely not return until it's nearly dinnertime. A pair of comfy, but always on-trend sneakers, go-anywhere distressed jeans or jean shorts and a versatile, butt-covering sweater are always a sure bet; a roomy Baggu tote that works as your carry-on pulls double duty, making it ideal for playing the packrat mama. Don't forget an instant camera to capture it all (and reap the rewards on the spot) and a chic sun hat to keep yourself safe from the sun. I always order a crapload of snacks to bring along and stuff a few per day in my tote along with travel toys and travel games to keep the kids occupied.
Got any more tips for San Antonio with kids? Leave them in the comments!
Although we only recommend picks we really love, we may earn a commission on purchases made through links from our site.
MORE: How to Stay Busy in Boston With Kids
You Better Believe There's More Than Beaches in Miami
Traveling With Toddlers: Family-Friendly Things to Do in Houston
This article was originally published on