Zoo Will Name A Cockroach After Your Ex And Livestream It Being Fed To An Animal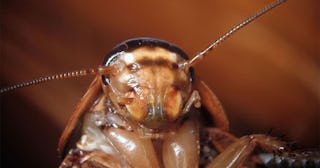 Joao Paulo Burini/Getty
This Valentine's Day may give you a newfound appreciation for cockroaches and rats
There are two things we've all dreaded at some point: Valentine's Day and encounters with creepy crawlers like cockroaches and rats. But this year, the San Antonio Zoo is giving you a reason to actually look forward to both. The zoo's brilliant V-Day fundraiser lets you get a little well-deserved revenge on a former flame, while at the same time helping the animals in the zoo's care.
As for the cockroaches and rats, well, let's just say they'll become martyrs for a worthy cause.
As part of its annual "Cry Me a Cockroach" event, the San Antonio Zoo will let you name a cockroach after your former lover — and then watch it get eaten by a meerkat. Even better? It'll only set you back five bucks, which we can probably all agree is a small price to pay to quell your scorn. If you're not sure a cockroach is a sufficient effigy, you can shell out $25 to name a pre-frozen rat after your ex and have it sacrificed to a reptile instead.
You'll also receive a complimentary certificate to acknowledge your participation in this delightfully dark display of ritual sacrifice. So, if you're feeling extra petty (and we recommend leaning right on in), you can share that sucker on social media and tag your pest, er, we mean ex.
And don't worry; you don't have to actually travel to San Antonio to see the critter named after your ex get devoured. The zoo will stream their "Cry Me a Cockroach" event live on Facebook on Feb. 14. But if this sounds like the perfect night-in for you on the heart-shaped holiday, make sure you don't miss your window. You have until 6 p.m. ET on Feb. 13 to submit a name through the zoo's website.
If you can't help but feel a tug of sympathy for the cockroaches and rats utilized in this program, rest assured — the zoo handles the feeders as humanely as possible. They don't use live rats in any of their feedings, in fact, relying solely on pre-frozen ones for animals whose diets include rodents.
As explained on the zoo's website, "All of our feeder insects were part of the audit by American Humane (the oldest animal welfare organization in the country). During our animal welfare audit by American Humane, the treatment of all the animals in our care including feeders such as cockroaches, mealworms, crickets, and more were inspected. We proudly became Humane Certified by American Humane in 2017. We were proudly the first zoological facility on the planet to be accredited by both AZA and ZAA as well as Humane Certified by American Humane."
So, there you have it! However, feel free to send a little thanks into the universe for the cockroach or mouse that made your ex-effigy possible. As for your ex, all's fair in love and war.