Sarah Cooper & Helen Mirren Brilliantly Recreate Trump's 'Access Hollywood' Tape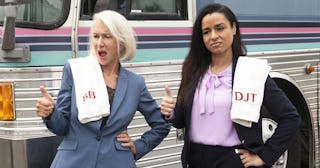 LACEY TERRELL/NETFLIX
The sketch features a second celebrity guest you might recognize from another Netflix show
Four years ago, The Washington Post shared a very lewd, very crude recording during which a younger Donald Trump could be heard bragging to then-Access Hollywood host Billy Bush about kissing, groping, and trying to have sex with women. It's a clip that rocked the 2016 election; and now, four years later and just days before the 2020 presidential election, comedian and Trump impersonator Sarah Cooper has teamed up with Helen Mirren to recreate the infamous scene that took place on the Access Hollywood bus.
The sketch, which is included in Cooper's recently released, one-hour Netflix special, Sarah Cooper: Everything's Fine, shows Cooper as Trump and Mirren as Bush. "I moved on her like a bitch," Cooper brilliantly lip-synchs, while Mirren's Bush laughs along. The clip comes just days before the president election, on Nov. 3, and serves as a reminder — for those who might've forgotten — of Trump's true colors.
And, of course, Mirren was absolutely brilliant.
https://twitter.com/jetpack/status/1321930181473456134
"It was a huge transition from being in my apartment, filming with my iPhone, to being on this giant set," Cooper told EW. "I think I just had to stop that voice in my head of, 'I don't know if you're ready for this,' and be like, 'Nope, I'm ready, cause it's happening.'"
Mirren wasn't the only celeb to make an appearance on Cooper's Netflix special. Directed by none other than SAG Award-winning actor Natasha Lyonne (Russian Doll, OITNB) and executive produced by Emmy Award-winning Maya Rudolph, Everything's Fine also features Aubrey Plaza, Ben Stiller, Connie Chung, Danielle Brooks, Eddie Pepitone, Jane Lynch, Jon Hamm, Jonathan Van Ness (who — spoiler alert — also stars in the Access Hollywood sketch) Jordan Black, Marcella Arguello, — takes a breath —Megan Thee Stallion, Tommy Davidson, Whoopi Goldberg, and Winona Ryder.
"Natasha was really open to anything that I wanted to do, but I think she was excited about not doing something standard," Cooper tells Rolling Stone of making the special under the guidance of Lyonne. "We were both like, 'Let's make something weird and different.'"
Cooper first tasted viral fame back in April when she took to social media to post spot-on lip-sync impressions of Trump. Since, she's been retweeted and praised by A-list celebs galore, from Lin-Manuel Miranda and Halle Berry, to Jerry Seinfeld and Bette Midler. Her most-watched video? That's gotta be her "How to Medical" video, which has been viewed over 20 million times.
Previously, Cooper was a writer and correspondent on the Stephen Colbert-produced show Old News. She's also written two best-sellers, 100 Tricks to Appear Smart in Meetings and How to be Successful Without Hurting Men's Feelings.
"It's incredible. I have to pinch myself," Cooper tells Rolling Stone. "I just feel like I leapfrogged, like I skipped so many steps. People have to remind me, 'No, Sarah, you've actually been working at this a really long time.'"