Sarah Hyland & Wells Adams Are Engaged And The Video Will Make You Sob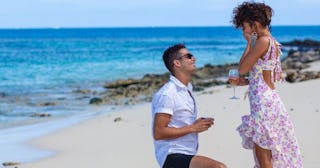 Sarah Hyland/Instagram
Wells Adams and Sarah Hyland are officially our favorite (soon-to-be-married) celeb couple of all time
Today is a good day for love, ladies and gents. Today, Modern Family star Sarah Hyland and Bachelorette alum Wells Adams finally announced their engagement. I mean, they've been happily dating and so very clearly head-over-heels for each other for over a year, so it's not like this is a surprise. But we're reaching for the tissues anyway.
The pair announced their engagement on their respective Instagram accounts, with Hyland making the first post: A series of photos from Adams' proposal on a beach that just might be in Sayulit, Mexico, because he just might be back on Bachelor in Paradise this year (we hope, we hope, we hope).
She captioned the photos, "That can't eat, can't sleep, reach for the stars, over the fence, world series kind of stuff." Excuse us while we die from how sweet and cute and perfect this is.
And then Adams fully one-upped her with his post, which included a video he made with scenes from the proposal interspersed with photos of them together, all set to a sweet love song by Drew Holcomb and the Neighbors. And this is the part where the happy tears fully start, so grab your tissues, folks.
Congrats to these two happy kids. They really seem like they're meant to be.
But like we said, we're not exactly surprised by this announcement. Adams and Hyland have been dating for more than a year, and in that time, they've gone through some hard stuff without ever seeming to really skip a beat. Most notably, Hyland has had a lot of health problems, requiring more than a dozen surgeries and two kidney transplants, and Adams has stuck by her side through that. He's also stood by her while she defended her body against online shamers, even through all her struggles with her health.
Plus, you know, there's the truly adorable story of how they met, which all started with a flirty Twitter exchange about Adams getting the job as bartender on Bachelor in Paradise.
Clearly, some DM sliding happened, and the rest is history. Congratulations, Wells Adams and Sarah Hyland. This is better than any Bachelor couple.