New 'Saved By The Bell' Photos Bring The OG Cast Back To The Max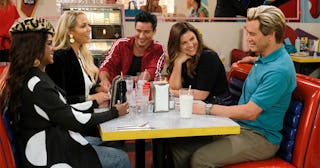 Trae Patton/Peacock
Ahead of the Saved By The Bell Season 2 premiere, the original Bayside gang is all back together — sharing laughs at The Max, of course
Few surprises were as pleasant as the fact that Peacock's Saved By The Bell reboot was as funny, irreverent, and charming as the original series, which continues to hold a special place in the hearts of '80s and '90s kids everywhere. So, naturally, the series is coming back for a second season, and not only have we gotten a release date and a teaser trailer, but a slew of new photos — and yes, the entire Bayside gang is back in action for round two.
Along with the cast of newcomers now roaming the halls of Bayside High, everyone's favorite high school sweethearts, Zack and Kelly, are back, having just celebrated their 27th wedding anniversary. (Feel old yet?) Zack (Mark-Paul Gosselaar) now serves as the governor of California, while Kelly (Tiffani Thiessen) owns some sort of wellness business, and their teen son, Mac, is the cool guy on campus at Bayside.
Both AC Slater (Mario Lopez) and Jessie Spano (Elizabeth Berkley Lauren) now work at Bayside, he as the gym teacher and she as a guidance counselor. Though Zack, Kelly, and Lisa Turtle (Lark Voorhies) only made brief appearances in Season 1, we're just thankful they're back again and catching up at The Max.
Hopefully, Season 2 will pay tribute to the comedic genius of Dustin Diamond as Screech after his death in February at the age of 44. We also wouldn't be mad if Jessie and Slater rekindled their on-again/off-again romance as adults — and we're also 1000% here to see Lisa thriving and looking as stylish as ever.
Sadly, the teaser trailer doesn't give too much away about what's in store for the second season. But the good news is that fans won't have to wait long, because it's slated to debut on Peacock on Wednesday, November 24, which means your Thanksgiving streaming plans are officially on lock, friends.
Check out the rest of the promo photos, which feature the young newcomers alongside plenty of Bayside staples, including Max burgers and — yes, those are landline phones. Given that the trailer for the upcoming fifth Scream film also heavily features a landline, dare we say that the old reliable corded phone is making a comeback?
Alright, alright, we'll say it so you don't have to. We're… so excited!