Saying 'Yes' To My Marriage Every Day
by Regan Long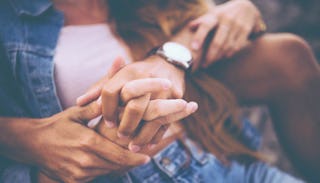 wundervisuals / iStock
Marriage is hard. I mean, really hard. You say "I do" to a person whom you intend to spend forever with. No one plans on separating when they take their vows.
But it happens. Why?
RELATED: 20 Engagement Gifts That Stand Apart From Bridal, Bachelorette, Or Bachelor Presents
Because marriage is really, really hard.
Every day — every single day — your surrender yourself in an effort to coexist with your partner. You celebrate successes together and try to encourage one another through life's setbacks and disappointments.
And then you may be blessed with children who bring such joy and love into your hearts, a love that you never knew existed. But, likewise, you feel exhaustion and mixed emotions as you enter into new territories of stress that you have never experienced before.
There come times that you hit a crossroads and may question if it would be easier to call it quits. You may start to see only the negative and focus on what isn't working as all of the stressors seem to snowball into an insurmountable mass that can be crushing to your relationship.
Marriage is hard. Parenting is hard. But balancing marriage and parenting can be really, really hard.
It's so easy to pour yourself into your family, into your children, and lose yourself in the process, heading down a slippery slope of forgetting who and what should come first.
I've come to find that every single day of marriage is saying yes — one more time.
Every single day, you're reestablishing your promise to one another that you're in this together, that you're a team, a duo, that you've got each other's backs no matter what.
Every single day, you're fighting the good fight for each other. You may not always see eye to eye or even like each other some days, but this is the person you can never not love.
Every single day you're saying yes to one more day, of continuing on with what has brought you together, a union that needs constant nurturing and prayer and attention.
A couple years ago, I lost part of the diamond in my engagement ring and then had to sell the other piece of my ring as we were going through some very scary financial times from my unpaid family leaves.
But today my husband put two brand new rings on my finger — which we will have blessed and I pray I never lose…for any reason.
Today I said yes — once again. And I pray to God that I get to say it one more time — every single day for the rest of my life.
This article was originally published on