The 'Schitt's Creek' Home Is For Sale, But Where's The Rose Family Portrait?
by Kristine Cannon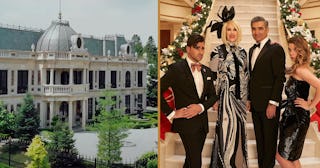 Property Vision/YouTube, Pop TV.
"Where is the bebe's room?"
As Saturday Night Live revealed last night — appropriately in the episode featuring Schitt's Creek co-creator and star Dan Levy as host — we're all suckers for Zillow. We can't help but spend our downtime mindlessly scrolling and swiping through the real estate app, clicking on and fantasizing about multi-million-dollar homes we just can't — and likely will never be able to — afford. And our latest obsession? Gawking over the photos of Schitt's Creek mansion, which is currently for sale for a staggering $15 million.
Located in Toronto, the 12-bedroom, 16-bathroom estate is 24,000-square-feet of pure real estate porn. Just look at it:
"This unique and custom-built house will take you into the 17th century of the French architecture," the listing agent says.
"This property is a French Chateau-style limestone mega mansion [that] was built to resemble Versailles," adds Sam Mehrbod, CEO of Roomvu.com.
Described as "la belle mansion-lux" and boasting carved limestone and Sistine Chapel-inspired frescoes, the French Chateau-style mansion, which was featured in the pilot episode of the Golden Globe-nominated Schitt's Creek, has apparently been sitting on the market since 2018 — and is now back on the market with a slashed price tag of $14.98 million.
According to the Zillow listing, the mansion was built in 2012 and was first listed at $21.7 two years ago.
"While it is a rare gem, these type of properties are very difficult to sell," Mehrbod said of the price. "With the recently announced Non‑Resident Speculation Tax (NRST) 15 percent tax for foreign buyers, it will be incredibly difficult to find a local buyer that would pay such a high price tag."
In addition to a whopping 14 parking spaces, the home also features a golf simulator, wine cellar and home theatre with eight seats, as well as a billiard room, fitness room, indoor swimming pool and a sauna.
But notably missing? The larger-than-life Rose family portrait.
For those who have yet to re-binge the series, the opening scene of Schitt's Creek's pilot prominently features the sprawling mansion. Shots of the mansion's interiors are seen as revenue agents seize the family's belongings. Alexis can be heard screaming into her phone, "It's crazy; people are just, like, taking our stuff!"
Of course, Schitt's Creek fans were quick with the jokes once the listing started making its rounds on social media, including on popular IG page, Zillow Gone Wild.
This listing follows news that the motel used as the Rosebud Motel was also up for sale. And apparently the mansion was also used in a couple other popular TV series, including Netflix's The Umbrella Academy and Hulu series 11.22.63.