The 'Scoob!' Trailer Is Here So We Finally Know How He And Shaggy Met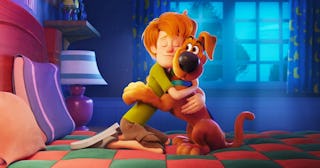 Warner Bros. Pictures
Zoinks! This new 'Scoob!' trailer may be the cutest one yet
If you're of a certain age, you grew up watching Scooby-Doo every day after school. Scooby, Shaggy, and the gang were the solvers of many hilarious mysteries and their friendship is one for the ages. For those of us who wondered how they met, we don't have to wonder any longer. There's a new movie coming out that gives us all the background on their beginnings and how they came to be the original dynamic duo.
We've known for awhile that the beloved crime-solving pair are reuniting in a new animated movie, Scoob!, out in May 2020. Of course, all our old favorites will be in the movie as well, because how can you solve a crime without Fred, Wilma, Daphne, and Velma? You can't. But what we didn't know is that the film will fill in all the gaps about how the friends came to be.
The official trailer gives fans a first look at how Scooby and Shaggy met. Scooby literally jumped into Shag's arms when a cop thought he was a stray pup and threatened to take him away. Shaggy, who seems quicker on his feet in his younger years, came up with his iconic name by looking down at a box of Scooby Snacks, filling in the blanks of his middle name (Dooby) and last name (Doo) in quick succession.
The pre-trailer shot was equally as heartwarming and showed the friends sitting in a movie theatre talking about their futures. "Maybe it's time we make our new movie," Scooby says to Shaggy. "Good idea Scoob, but first we need a trailer," Shaggy replies. "Oh, can you do the trailer guy voice?"
Scooby clears his throat and launches into the voiceover for the trailer, dramatically saying, "In a world destroyed by evil, discover the epic origin story of the greatest team of heroes in our history of mystery." OK, who else is going to see this movie with or without their kids?
The trailer continues, showing the two becoming the best of friends (including their famous face licks) and eventually meeting Fred, Velma, and Daphne while out trick-or-treating. Of course, there's plenty of ghosts and monsters because where would the show be without them? Fast-forward to the present day, Shaggy and Scooby get abducted by a mysterious aircraft (they are kidnapped more than Kiefer Sutherland's daughter in 24) and the gang hot on their tails trying to rescue them.
Warner Brothers got an all-star voice cast to sign-on for the film led by Zac Efron (Fred), Amanda Seyfried (Daphne), and Gina Rodriguez (Velma). Shaggy and Scooby will be voiced by Will Forte and Frank Welker, who has been Scooby's voice since 2002. Mark Walhberg, Jason Isaacs, Tracy Morgan, and Ken Jeong will also be lending their voices so you can imagine it will be as funny as it is adventurous.
This article was originally published on