Sean Spicer As A Grotesque Monster On 'Dancing With The Stars' Is So Fitting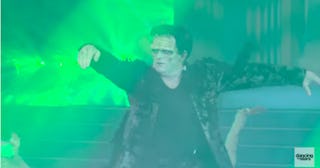 YouTube
Hasn't the Sean Spicer redemption tour gone on long enough?
Look, it was weird when it was announced that of all people, Sean Spicer would be a contestant on ABC's Dancing With the Stars. The disgraced former Trump official used his platform at the White House press podium to peddle lie after lie and attack both the president's critics and the press. He deserved to fade into obscurity, not invade a family-centric primetime TV show. And now, seven weeks and five eliminations later, he's still dancing, and Twitter is left wondering, "WTF."
For this week's Halloween episode, Spicer attempted the jive dressed as Frankenstein's monster in a graveyard and, well, it wasn't good. And we don't mean it wasn't good just because this guy shouldn't be on TV anymore. It objectively was pretty awful dancing.
Put all our personal and professional problems with Spicer's conduct aside, and he's still the weakest dancer ever to make it this far in the competition. His average weekly score is just 17.5 out of 30, with a level of technical skills that would get even crowd favorite contestants booted after the first week or two on past seasons. The other dancers who are still in it this season are consistently getting scores from the judges in the 24-27 range, while Spicer has yet to do better than 21, and typically actually does much worse than even that.
Audience votes are the only thing keeping him alive, and it's getting ridiculous. This week, after Queer Eye star Karamo Brown got sent home, but Spicer remains, things came to a head online. People are very, very over this.
Seriously, we've all had enough. How is this being allowed to continue?
It turns out there may be a reason for Spicer's success on the show that has nothing to do with his dancing: On Twitter, it appears that Trump's supporters think they can "own the libs" by continuing to vote Spicer through each week. People who confess that they've never seen the show say they vote for the guy weekly, which is one thing to do with your time, we guess.
I mean, there are more important things to worry about, politically and otherwise. But sure, if you want to dump that much time and energy into voting a crappy dancer into the finals of a reality show because you think it's some sort of win for conservatives, I guess more power to you.
You'd think Spicer's conservative fanbase would get tired or, you know, have something better to do on Monday nights, but it's been seven weeks of this and he's still there, so apparently not. All this means is those who are actual fans of DWTS might have to buckle up for a long season with someone who doesn't deserve to be there — for so many reasons.
This article was originally published on