A New Trailer For Netflix's 'You' Season 2 Just Dropped
by Julie Scagell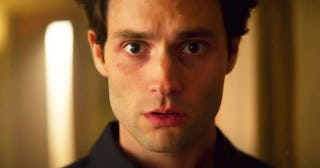 Netflix/Youtube
Penn Badgley is back as Joe and looks even scarier than before
Fans of the Netflix show You have been anxiously awaiting the day after Christmas to see the new season. Just to keep our interest piqued (like we need it), they dropped a new trailer showing Penn Badgley's character, Joe Goldberg, finding his latest victim — and he manages to freak us out even more than during season 1.
The end of season 1 shows Joe moving to LA for a fresh start from, you know, his murderous rampage in New York. Of course, someone like Joe can't escape his past so easily and fans get a sneak peek as one of his exes, Candace (Ambyr Childers), seeks him out to settle some "unfinished business." "You" and the sequel titled "Hidden Bodies" are based on the books written by Caroline Kepnes.
"You did it again, didn't you?" she says in the trailer, talking about his latest love interest, a girl named Love Quinn (Victoria Pedretti). "I will say that Love is a person he could only have met after what happened between him and Beck. And by the way, Joe is not out there looking for love," show-runner Sera Gamble told Entertainment Weekly. "He's truly heartbroken by what has happened, and so what Love offers is a different kind of friendship and a different kind of relationship." Oh for the love, Love, run far, far away.
"He's fresh out of an intense relationship that ended in murder. The last thing he expects is to meet an incredible new woman but he's falling in love again — with a woman named Love. Is history repeating? Or will this time be the real thing? Joe's just crazy enough to risk finding out," the show's description reads.
According to Gamble, the upcoming season is even more creepy and gory than the first. "I would say that season 2 of You, kind of, doubles down on some of the stuff that you might come to expect," she told Us Weekly. "Moving the show to Los Angeles brought out a whole different side of Joe Goldberg. At least one scene comes to mind that's gorier and scarier than anything we had in season 1. You will know it when you see it." Bless.
I can't imagine anything creepier than Joe stalking his love interest Beck in season 1 on Netflix. Standing across the street, staring at her house from the dark of the night is bad enough. Finding heinous ways to kill her and all of her friends is truly another. Badgley's portrayal of Joe is nothing short of award-winning and, even though it sounds terrible to say, I can't wait to see more of him in season 2.
"There are some things I've done with prosthetic bodies in this [new] season that were kind of nauseating as I did them, I will say that," he told Entertainment Tonight. From the amount of blood in this latest trailer, I'd agree.