All 180 Episodes Of 'Seinfeld' Are Coming To Netflix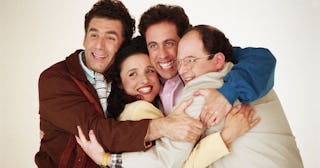 David Turnley/Corbis/VCG/Getty
Forget Friends — Netflix is getting Seinfeld!
As those nostalgic for the '90s, the indisputable height of sitcoms, are still grappling with their feelings of loss and hopelessness over the news that Friends will soon leave Netflix, there's finally some good news. Move over, Ross, Rachel, Chandler, Joey, Phoebe, and Monica. There's a new friend gang ready to take Netflix center stage: The streaming giant is getting all 180 episodes of Seinfeld.
That's right. Forget "Pivot!" and "We were on a break!" From now on, it's all "Shrinkage!" and "Serenity now!" This news basically has sitcom fans saying "Ross and Rachel who?" because Seinfeld is indisputably a better show. Don't @ me.
Now for the bad news: This change isn't happening for a hot minute. Seinfeld will be staying with Hulu, where it's currently streaming, until its contract ends in 2021. That's the same year that a major reshuffling will be happening among streaming services. Friends will leave Netflix for HBOMax, and The Office will leave Netflix for NBC's new streaming service, which will be launching that year. It would be a rough year for Netflix, if it weren't for this news.
The word about the switch is starting to get around, and people are ready.
Like, sure, you could watch Seinfeld right now on Hulu, but if you did that, you'd have to watch it with commercials, unless you're Mr. Moneybags and shell out for the ad-free plan. But who does that when you can just wait for the show to hit Netflix in all its commercial-free glory?
According to Esquire, Netflix beat out some fierce competition in a bidding war to win the streaming rights for Seinfeld, but it's also not super surprising to see the show head to Netflix, considering how much other Jerry Seinfeld content already lives there. Jerry signed a pretty huge deal with Netflix in 2017 that gave the streaming giant all the rights to his series, Comedians in Cars Getting Coffee, and his most recent stand up special is also streaming on Netflix.
Still, this is big for Netflix, especially since it's happening the same year they're losing so many other major cult favorites.
"Thirty years after its premiere, Seinfeld remains center stage. We're thrilled to be partnering with Netflix to bring this beloved series to current fans and new audiences around the globe," Sony Pictures Television Chairman Mike Hopkins said.
Seinfeld may be a few decades old, but the show stands up, and people still love and watch it. As much as they're all assholes, Jerry, George, Elaine, and Kramer are lovable assholes, in their own way. And we will happily binge all 180 episodes of it.