Selma Blair's Raw Post Is A Nod To Those Dealing With Chronic Illness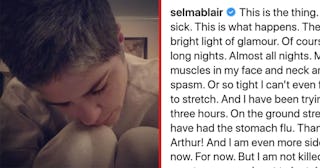 Selma Blair/Instagram
She opens up about daily multiple sclerosis symptoms in her latest Instagram post
Last year, Selma Blair shared her multiple sclerosis diagnosis with the world. Since then, she's been very candid about her daily ups and downs as a single mother who's living with a chronic illness for the rest of her life. Her latest Instagram post is vulnerable, raw, and sheds light on what her life feels like inside her head and physically.
"This is the thing. I feel sick. This is what happens," she writes in the caption. "There is no bright light of glamour. Of course. It is long nights. Almost all nights. My muscles in my face and neck are in spasm. Or so tight I can't even find a way to stretch. And I have been trying for three hours. On the ground stretching. I have had the stomach flu. Thanks Arthur! And I am even more sideways now."
She acknowledges the strength she's had to gain as someone with MS, and that she knows it could always be worse. But that doesn't change the fact that feeling down and stressed about her struggles is a completely valid way to feel. She shares that she sprained her ankle, which in itself doesn't seem like a huge deal — but for someone with MS, it can be a huge deal.
https://www.instagram.com/p/B8F1m8ynsBb/
Parenting with a chronic illness is no easy feat, especially when you're a single parent — something she's opened up about before, and mentions again in today's post.
"And I am still feeling alone and vulnerable and scared about the future as a single mom," she continues. "I'm not dying any more than anyone. I am just hurting. It feels like I am just breaking down. So there's a truth to give to anyone else feeling this way. It's just miserable. And scary. To feel unwell. I am so sorry. This is just me to you. In the early hours of the morning. Cause I don't know know what else to do and I want so much to do better."
https://www.instagram.com/p/B7e4DxBnPY1/
It's got to be difficult for someone in the spotlight to be so vulnerable about the feelings of isolation that can come with chronic illness. But it's such a valuable thing to share, for anyone out there reading her words who may feel the same way or be dealing with similar struggles.
Which, judging by how she ends her post, is something she is aware of and uses her platform accordingly.
"May the silver lining surround us all," Blair concludes. "And guide us out of the darkest. Thank you all for being the biggest loves. I am in a slow time. I need to recover. I want to recover. And I don't know what that even really means. 💛. I send you all a reassuring warmth. We all need it."
This article was originally published on