Serena Williams On 'Changing Diapers' And Killing It At The US Open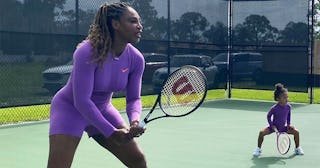 Serena Williams/Instagram
Serena Williams describes juggling the world's most acclaimed tennis tourney and being a mom
ICYMI, the iconic US Open tennis tournament took place over the weekend and, no big surprise here, Serena Williams took part in the famed competition. What you may not have realized is that, in between matches, Williams was like any other mom tending to their three-year-old's dirty diapers.
This year's Open proved a bit different since the novel coronavirus pandemic meant it was closed to the public. However, Williams didn't have to go into her Women's Singles third round match against Sloane Stephens without any support. Her husband, Alexis Ohanian, brought the couple's daughter, Olympia, to cheer Mom on. From the precious pictures, it's obvious Williams adores having her daughter watch her compete.
However, it also exemplifies the precarious balance working moms must keep.
Williams isn't the only woman competing this year who's doing the mom-juggle, either. For the first time in Grand Slam history, three moms are in the quarterfinal: Williams, Victoria Azarenka, and Tsvetana Pironkova. In fact, Williams' played (and won against) Pironkova on Wednesday afternoon.
"Just shows me how tough moms are. Whenever [you] can birth a baby, you can do anything. I think we saw that in Tsvetana today; she played unbelievable," Williams alluded to her competitor on ESPN after their three-set match.
She relates to Pironkova, who has a two-year-old son at home, on a deeper level now, acknowledging that they're both straddling a weird, exhausting line. "It's like you play a match and you go home and you're still changing diapers," Williams said. "It's like a double life. It's really surreal."
Like so many of us working moms, though, Williams clearly relishes the opportunity to have her daughter see her in action.
Over the weekend, Ohanian shared one particular moment that seems to exemplify that — despite the juggle, despite the exhaustion — Williams finds it all worth it. In the Instagram video, Olympia waves and smiles at her mom from the sidelines. The little girl can be seen mouthing "Mama!" Taking a break from re-hydrating, Williams waves excitedly back.
"I hope she saw her mama fighting," Williams told a reporter after her match against Sloane Stephens, although she was also realistic about her toddler's attention span. "I don't think she was paying attention. She may have been playing with some princesses upstairs."
Even if Olympia doesn't watch every second of her mom's time on the court, the three-year-old is still the cutest (hands-down!) cheering section Williams could ever ask for. Earlier this week, the tennis pro acknowledged as much by sharing a heartwarming snapshot of Olympia looking on as Williams played.
The proud mom kept the caption short, sweet, and full of affection, writing of her little girl, "Princess."