'Sesame Street' Tackles Racism In New TV Special 'The Power Of We'
by Cassandra Stone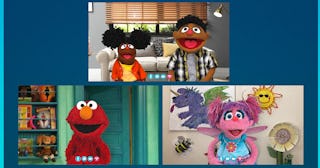 Sesame Workshop
The new Sesame Street special will stream on HBO Max and PBS Kids on Oct. 15
When it comes to making sure our children are educated about inclusion, social issues, and kindness, no one is better at teaching than Sesame Street. In their newest special, "The Power of We," they'll teach children how to stand up against racism.
Sesame Workshop — the nonprofit, educational organization behind "Sesame Street" — created the half-hour anti-racist special and hopes families will watch together later this month. "The Power of We" defines racism for younger viewers and shows just how hurtful it is. It's composed of segmented skits and songs performed in a Zoom-like format, and it will stream on HBO Max and PBS Kids on Oct. 15, while also airing on PBS stations.
"The Power of We" also urges children who encounter racism and victims of it to call it out directly. "When you see something that's wrong, speak up and say, 'That's wrong' and tell an adult," Gabrielle the Muppet explains.
In one skit, a Black Muppet is told by a white Muppet that he can't dress up like a superhero because they're only white. Even though feelings are hurt, the Black Muppet refuses to stop playing superheroes, and says they can come in all colors.
In the song "How Do You Know?" Elmo tackles racism with a friend. "Hey, Elmo, how would you feel if I said, 'I don't like you 'cause I don't like the color red?'" sings Tamir, a Black, 8-year-old Muppet. Elmo responds perfectly, of course: "Elmo wouldn't care what you said 'cause Elmo is proud, proud to be red!" It concludes with the lines: "Speak up. Say something. Don't give in."
Over the summer, Sesame Workshop coupled with CNN for a Town Hall called "Coming Together: Standing Up to Racism." The Town Hall centered around the nationwide protests after George Floyd's murder at the hands of Minneapolis police. One of the standout moments of the special was when Elmo's dad, Louie, perfectly explaining racism to his son.
"The Power of We" expands on the work the show began over the summer, perfectly demonstrating Sesame Workshop's dedication to incorporating inclusivity in its storylines and diverse cast of Muppets, human cast members, and guest stars.
"Sesame Street has the ability to entertain children while explaining complex issues like no other program and equips families and caregivers with the support they need to have empathetic conversations," said Kay Wilson Stallings, Executive Vice President of Creative and Production at Sesame Workshop in a statement. "We believe that this moment calls for a direct discussion about racism to help children grasp the issues and teach them that they are never too young to be 'upstanders' for themselves, one another, and their communities."
There is a viewing guide for The Power of We for families to use to hopefully spark meaningful conversations around race. There is also a companion guide for families and caregivers to use as they discuss the special with children, available at SesameStreet.org/PowerofWe.