Dr. Ruth Has Some Spicy Suggestions For Moms Who Want A More Fulfilling Sex Life
by Elizabeth Yuko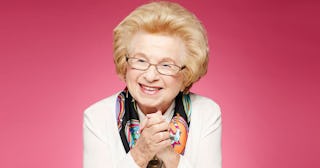 Courtesy of Amazon Publishing
Whether you count down the days until those little conversation heart candies are in stores for Valentine's Day — or until the day after, when they're 50 percent off — you're probably aware that the day for all-things love is coming up soon. But love it or loathe it, the holiday is actually the perfect time to check in with your partner about your relationship — both in and out of the bedroom, according to world-renowned psychosexual therapist Dr. Ruth Westheimer.
"Valentine's Day is a commercial day, but even so, I like it because it gives people the opportunity to say 'how fortunate that you are in my life,'" she tells Scary Mommy.
The 91-year-old icon and author of Sex for Dummies (now in its fourth edition) also has a suggestion for how to help moms celebrate the holiday. "Take her to dinner," she says. "Not necessarily flowers and chocolate, but to go to a place where you have not been. Make it a surprise."
And that's not all she had to say. Scary Mommy sat down with the living legend to talk about how moms can have a more fulfilling sex life, the merits of a quickie, and the myth of the G-spot.
How Moms Can Prioritize Sex and Intimacy
As not only a sex expert, but a mother herself, Dr. Ruth understands the importance of moms having a satisfying relationship and sex life. But if things go off course and a mama realizes that she could use a little more intimacy in her life than she's currently receiving, Dr. Ruth says acknowledging that there is room for improvement should be first on the agenda. "The important thing is that they recognize that they do need time. That's the first step. Bravo!," she says.
And as difficult as it can be to carve out time in your already super-busy schedule to focus on your sexual pleasure, Dr. Ruth stresses that it should be a priority. "The important thing is to make sure to make time for sex," she explains. "Sometimes for moms it is really difficult because there's always something that the little ones demand. So one has to be conscious to make sure to put time aside."
Make it a Quickie
Don't think you have time for a full-blown sex session with all the fixins? Dr. Ruth has the solution for that: make it a quickie. Just because you don't have hours to spend in bed doesn't mean you have to skip the sex.
That's great, but what if you've never initiated a quickie? If this is uncharted territory for you, it may seem intimidating, but yet again, Dr. Ruth is on the case. And while she's usually all about the communication in a relationship, this is an exception. "Just make sure you give him a good, sexy kiss, and [then] you tell him one sentence: how fortunate you are that you are in this together," she says. Then get down to business.
Get Out of the House
When kids enter the picture, it may be hard to find time to schedule a romantic weekend away, but Dr. Ruth says that it's not necessary in order to have some sexy time together. As spokesperson for Hotwire's "Make it a Quickie" campaign, Dr. Ruth is a big fan of mini-breaks at a hotel — and not necessarily ones far away from home. In fact, she says that your romantic hotel getaway doesn't even have to be overnight: the point is to give you a break from your usual environment and a place where you and your partner can have some space and enjoy each other.
Given how precious your time out of the house is (babysitters cost money!), Dr. Ruth has devised the perfect agenda for couples who need a break (like parents). "Make sure that the two of you have a light dinner. And make sure that you actually have a sexual episode in the hotel room before dinner," she says. "Then go for dinner, go back to the hotel room, take a good bubble bath, take a good rest, and then go home. You don't have to stay the whole night."
Having this time away will allow parents to be mindful that their sexual needs didn't disappear the day they started buying diapers. "Make sure that you don't put the sex on the back burner, but that you make sure that both of you enjoy being with each other. [And] that both of you will say how fortunate you are — even if it's a little bit rushed, even if you're in a little bit of a hurry because you have children and you have to pick them up from school," Dr. Ruth says.
But if you're in a rush, will there be enough time for both parties to get off? Maybe not, says Dr. Ruth, and that's OK. "Sometimes it might be satisfying the partner. It doesn't have to be simultaneous," she says. "Sex doesn't always have to be at the same time. If it happens at the same time, wonderful. But it doesn't have to. Sometimes give him an orgasm. And sometimes he gives her an orgasm, and they have to make sure that they know how fortunate they are that they are in this together."
The Truth About the G-Spot
Sex should be fun, but that doesn't mean that it doesn't come with it's own stresses and pressures. For one mama on the Scary Mommy staff, some of that stems from the fact that she still has no idea how to find her G-spot. When we asked Dr. Ruth about this, she had a very straightforward response.
"Well the best thing to do, first of all, is stop looking for a G-spot, because we have no idea if there is such a thing," she says. "Some women see a little more sensitivity at some area inside the vagina, but stop looking for the G-spot! Just enjoy being together."
Having said that, Dr. Ruth isn't saying that a G-spot doesn't exist — it just shouldn't be the focus of your attention or a cause of stress. "If somebody finds, through scientifically validated data, that there is such a G-spot, you and I will be the first ones to talk about it," she says. "We'll let everyone know. But in the meantime, stop looking for it because the idea that there is a G-spot might just be an idea, and maybe there is no such thing."
Instead of spending time trying to locate a potentially mythical body part, Dr. Ruth recommends turning your attention to pleasure. "Use anything that can give pleasure, but stop looking for a G-spot," she says. "What is important is to have that knowledge that you are in this relationship together, that you cultivate the relationship, that you make sure that you have time to give pleasure to each other. And stop looking for a G-spot!"
Related: 14 Sex Games For Couples That Will Leave You Hot, Bothered, And Satisfied
This article was originally published on