Let's Talk About Sex Toys In The Anus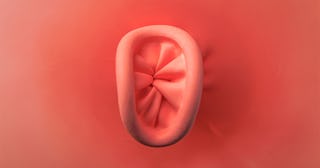 Anatoliy Sizov/Getty
Listen, if you clicked on this article, it was for a reason (don't worry, no one needs to know). But let's face it, using sex toys isn't strictly to get our lady bugs buzzing. There are many ways you can use them that don't require a vagina (don't knock giving yourself a shoulder massage with your favorite battery-operated-boyfriend), and lots of us are curious about it.
It can be awkward, though. Not everyone feels comfortable talking about it with their partner. Also, staring at your toy thinking you'd like it to enter your backdoor while you orgasm because you've heard it's a delight (it is), might be intimidating.
Here are some thoughts you may have had:
How do I do it?
Is it safe?
Can I use it in between my cheeks if it's designed to be put in between my lips?
What can I expect and watch out for?
If these questions have been burning in your brain, or your butthole, you've come to the right place.
Have a seat and relax because we'll fill the void … or help you fill it later on, if you know what I'm sayin'.
The thing is, anal is a form of sex. Knowing as many facts as possible really is the key to having a safe and enjoyable experience. It seems to me anal sex isn't talked about as much as it should be, but people are engaging in anal sex and experimenting with toys, and we need to normalize it. This isn't something we should be at all ashamed about, and it's important to know the best practices to have a fulfilling experience.
Scary Mommy talked via email with SKYN Condoms Sex & Intimacy Expert Gigi Engle, who set the record straight when it comes to engaging in anal play.
First, we need to realize that not all sex toys are created equal. That bullet you love to put in your vulva, or tap on your clitoris, isn't made for your fanny funnel and this is why: Your anus is more complex than you may know. "The anus has two rings," explains Engle. "The first ring is the one you can feel when you squeeze your cheeks together — the other sucks things up without any control."
If that didn't scare you into double checking to make sure the toy you're going to put in your anus is butt-proof — it needs a base — just know it will get pulled into the chasm known as your insides and you won't be able to squat and feel it so it can be pulled out like you can if something goes too far into your vagina.
Word to the wise: If you use a bullet vibe or some other non-anal safe toy in a butt, it will be sucked up and you will wind up in the ER.
That will definitely put the fire that's been burning in your drawers out. The point here is to give your back door some usage instead of letting your front door get all the attention, not have a traumatic experience.
You should also have lots of lube on hand, because you're going to need it. Engle specifically recommends silicone lube for anal sex, but when it comes to toys, a water-based lube is best as silicone lube can degrade your silicone toy. Either way, "When it comes to anal play, the wetter the better," says Engle.
If you are hesitant to talk to your partner about what you'd like to do to their butt trumpet, or that you want them to dive into yours, Engle suggests educating yourself a bit before you sit down to talk with them (or sending them this article as a hint).
"There's no need to be an anal scholar, but read a few articles or ask some of your more experienced friends," she says.
The thing most people are worried about when it comes to the anus and anyone getting their hands, toys, or penises around it is: Will there be secretions?
Welp, the fact of the matter is, you are putting something into your butthole. The same opening that poop comes out of. So the chances of that happening are pretty high.
Engle says, "If you're going to do anal stuff, there might be some smells and possibly some waste." You can go to the bathroom and wash up, or use an enema first, but you don't have to. It's not a requirement, but is important to discuss it with your partner so you are both confident and you both enjoy it.
Engle adds, "It's about what makes you feel most comfortable. The thing is, you're going up a butt and this is where things come out — it's really not a big deal."
Here are your anal play CliffsNotes:
1. Always use an anal-safe toy. It should have a base, and/or should say it's anal safe on the packaging. And if there is ever any doubt in your mind, call the company and ask them. Also, no food is ever safe to stick in between your cheeks, because your butt will literally eat it. There's just no other way to say it.
2. Lube up; don't be skimpy with it.
3. Go slowly, and talk to your partner if something doesn't feel good.
4. Expect there to be poop at times. Wash up beforehand if you want to, but make sure you talk to your partner about what they prefer, and hopefully you can come to an agreement and both be comfortable, which is the most important part of sharing something this intimate with someone.
If you want to engage in anal play, you absolutely should. But just like any other sex act, it should feel right, and you should do it safely. I think we can all agree no one wants to end up in the ER because they put a Ballpark frank in their bum. Eat the dog with your mouth, and invest in the proper ass toys, folks. Please.
This article was originally published on