'Don't Put It Off': Shannen Doherty Has Powerful Message For Breast Cancer Awareness Month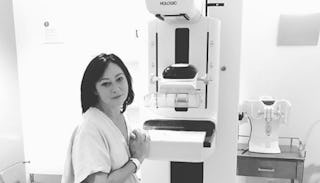 Image via Instagram/Shannen Doherty
Breast cancer survivor Shannen Doherty doesn't just want women to be aware during Breast Cancer Awareness Month–she wants you to act
Actress and director Shannen Doherty found out she was in remission from breast cancer in the spring of 2017. But even though she no longer has signs of the disease, she is still dedicated to helping other women survive, though early detection and treatment.
On the first day of Breast Cancer Awareness Month, she took to Instagram with a message that goes beyond awareness.
"October. Breast cancer awareness month," she wrote, posting a black and white picture of herself in a hospital gown, standing at the mammogram machine. "Last week I went for my mammogram. As scary as it can be, it's also comforting when you get the all clear. Early detection is the key. Don't put it off!!!"
This is far from Doherty's first message about breast cancer. The Heathers and Beverly Hills, 90210 star has chronicled her cancer journey from the time that she was diagnosed, to the chemotherapy and radiation treatments, to her slow and difficult recovery.
A million Instagram followers track her updates, which are often extremely honest, candid, and intimate. In one picture, she shared the processes of shaving her head during chemotherapy.
In another, she showed exactly what it was like to get a chemo treatment, writing, "Day after #chemoday isn't always so great. Sometimes one isn't able to dance, or eat or even to think about the next day. Sometimes it just feels like you aren't going to make it. That passes. Sometimes the next day or 2 days later or 6 but it passes and movement is possible. Hope is possible. Possibility is possible. To my cancer family and everyone suffering…. stay courageous. Stay strong."
Doherty was diagnosed with breast cancer in March 2015, and then found out that the cancer had spread to her lymph nodes. Her treatment involved a one-sided mastectomy, plus chemotherapy and radiation. While she has been cancer-free for over a year now, she's still cautious–and she's still fighting for breast cancer awareness.
"Reoccurrences happen all the time," she wrote in April. "Many of you have shared that very story with me. So with a heart that is certainly lighter, I wait."
Her message to get a yearly mammogram is vital — as long as you fit the demographic that benefits from a check. The American Cancer Society recommends:
Mammograms for women ages 40 to 44 who wish to be screened (this may be a good option for those with a history of breast cancer in their family, or genetic breast cancer markers).
Annual mammograms for women ages 45 to 54.
Mammograms every other year for women 55 and older (plus yearly screenings for women who are high-risk).
MRIs in addition to mammograms for women with higher risk factors.
According to the Mayo Clinic, regular mammogram screenings for women over 40 decrease cancer deaths by 15 to 29 percent. However, mammograms do have some health drawbacks, so discuss the advantages and disadvantages with your doctor.