'She-Ra And The Princesses Of Power' Introduces First Non-Binary Character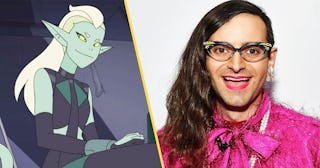 Netflix and Slaven Vlasic/Getty
Double Trouble will be voiced by non-conforming writer and activist Jacob Tobia
If you're looking for true representation and inclusion, look no further than the Netflix series, She-Ra and the Princesses of Power. The modern reboot of the animated classic which debuted back in 2018 is introducing its first non-binary character, voiced by gender non-conforming writer and producer Jacob Tobia.
Tobia will be playing the character Double Trouble for the upcoming fourth season, available on November 5. Every She-Ra fan knows the reboot followed the original series loosely but its characters were a representation of the world we live in today. Now, writers are keeping good on that promise, introducing a non-binary character to its cast.
Tobia, who published their memoir, "Sissy: A Coming-of-Gender Story," and whose writing has been featured on MSNBC, The New York Times, Time, The Guardian, Teen Vogue, and others took to social media to share the exciting news about their next career move. "Having non-binary representation in animated shows for young folks is just so vital because young people today are already understanding that gender is diverse and a broad spectrum from a super-early age," Tobia said on Instagram. "So it's about time that the shows that we're making for young people reflect the world as they understand it."
The series already has an inclusive cast, from LGBT characters to body types that represent all of us to the use of various skin tones, but the introduction of Double Trouble takes inclusion a giant step forward. "Fantasy has always been so vital to me because as a non-binary person, it's a way of escaping the confines of the world we live in," said Tobia of their new role in She-Ra. "It's the way of building other realities and imagining the world as it could be, not as it is."
People are most definitely here for the news:
According to Netflix, season 3 ended with Soldier Adora finding a magic sword, "and her identity as legendary hero She-Ra. She joins the Rebellion, but her best friend stays with the evil Horde." Season 4 begins with the respective rises of Queen Glimmer as leader of the Rebellion and Catra as co-leader of the Horde, and a discovery about Etheria causes Adora to reconsider everything she thought she knew. No word on how Double Trouble will fit into the equation, but it's refreshing to have that representation on screen.