Penguins Are Roaming An Entire Aquarium Amid Coronavirus Shut-Down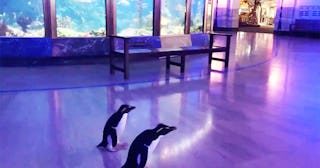 Shedd Aquarium/Twitter
The coronavirus closed Chicago's Shedd Aquarium to human visitors, so now, the penguins have the run of the place
As the coronavirus continues to spread around the world, more and more businesses and public places have closed their doors to prevent public gatherings and promote social distancing, one of the best tools we have to slow the virus's spread. That includes Chicago's Shedd Aquarium, a massive lakeside facility that's home to aquatic animals from all over the world — from beluga whales to piranhas and sharks to penguins.
And in the absence of human guests to help keep them entertained, the penguins have been getting some special enrichment under the close supervision of Shedd's staff: They've been getting to explore the entire aquarium, checking out the other exhibits and all the other marine life that lives under their roof. And the staff have been catching every adorable moment on video so we can watch the action from home.
It all started with Wellington, a rock hopper penguin who got to go on a solo journey to the aquarium's Amazon River exhibit. There, he seemed pretty interested in the piranhas, and "the black-barred silver dollars also seemed interested in their unusual visitor," a staff member wrote on Twitter alongside the video of Wellington exploring the exhibit.
The next lucky penguins to get to go for a field trip were Edward and Annie, a pair who have bonded with one another for this year's mating season. In their video, they explored the aquarium's rotunda, including its giant open-sea exhibit that guests typically see right when they first walk in.
Edward and Annie adorably stayed right by each other's sides as they explored, and we truly didn't know how much we needed penguins to be able to get through this week.
https://twitter.com/jetpack/status/1239661883063492611
I mean, just look at them exploring the reception desk like tiny, waddling humans. The penguins think they're people! We legit cannot get enough.
Shout out to the Shedd Aquarium for providing the penguin content we all truly need during these trying times — and for going above and beyond to make sure their animals stay entertained, engaged, healthy, and happy during the coronavirus shutdown. In all the craziness of taking care of ourselves, it could be easy to let our animal friends fall by the wayside, but that's definitely not happening here.
While you're waiting for the Shedd to post more videos of its penguins, if you need more aquarium content, I highly recommend the Monterey Bay Aquarium, which has set up live cams of its most popular exhibits for the duration of the shutdown.
This article was originally published on