12 Pairs Of Shoes From The '90s We Want To Own Again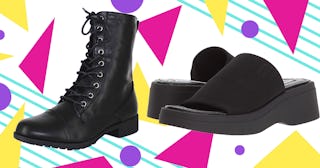 Scary Mommy and Amazon
If you crimped your hair, then finished off your 'do by clamping in at least twenty of your favorite butterfly clips after a sun-soaked day with Sun-In dripping off your locks, then I am sure you remember the footwear of the '90s.
I think all my foot problems come from that decade, but that doesn't mean I don't want to slide a precious pair of Candies onto my gnarly feet. Who cares if there was zero arch support and many of the shoes that went with our Laura Ashley dresses and scrunchies didn't even bend? If you were a child of the '90s, you kept your eye on the prize and favored form over function any day.
I remember my mom asking me how the hell I was able to walk without rolling an ankle after I slid on my Delia's platform flip flops. The truth was, I was hurting, but my teenage self was trying to act as nonchalant as possible. That skill paid off in many ways and I am now the proud owner of too many pairs of stilettos which I wear all around town and I don't feel a thing.
Let's take a walk (in our favorite shoes) down memory lane and talk about all the shoes we had in the '90s that we want to see in our lives again.
I loved these babies and believed with all my being their chunkiness made my thighs look small in my button down floral skirts. They were sturdy, and could take you from day to night without an issue.
These were the must-have shoe of the decade. All the girls in my class had them. During a slumber party there were about twelve pairs of these shoes thrown by the door. No one knew whose were whose, but it didn't matter. These shoes went with everything from your favorite sweatpants to your favorite swimsuit and when they wore out, you immediately went out and got another pair.
Whether you were obsessed with My So Called Life or not (if you weren't, why the hell not?), combat boots were so badass everyone wanted a pair. It didn't matter if a fashion magazine said they were more of a winter time look — we ripped these puppies out with shorts, mini skirts, and our favorite cutoffs.
I loved my Mary Janes-– they made me feel like a grownup, but they were also nostalgic and reminded me of a shiny leather pair I had when I was a little girl and they made me feel like a doll.
I remember seeing these spun together with a rubber band in my favorite boutiques. They didn't last long but there was nothing like a fresh pair of disposable shoes to wear with your pegged jeans.
These rug-bottomed shoes weren't very flexible and definitely got waterlogged which made them hard to walk in but, damn, they looked good with our pixie cuts and high-waisted Levis.
Dirty Dancing may have come out in the '80s, but Jennifer Gray made us hang on to these (and roll our jean shorts a bit tighter) longer after we'd watched the movie over 100 times with girlfriends.
Yes, platform flops are hard to walk in, but it didn't matter. The bigger the platform, the better. And we learned how to live with the pain and discomfort. I don't know if there is a woman who wore these in the '90s who doesn't wish for them to come back again simply for aesthetic reasons. If you say you don't miss the leg-lengthening factor, you're a damn liar.
A spanking new pair of these babies always put a spring in our step. If they didn't hurt your eyes, they weren't clean enough. I had a pair that got me through teaching many step aerobic classes in college and beyond. Update: These are now called Renaissance Sneakers. Just let that sink in for a moment.
Paired with some thigh-high socks and a plaid skirt, these shoes made us feel a little reckless.
We slipped these on after soccer practice and if we didn't play soccer, well, we slipped them on with everything else. I still don't know if I love these or think they are horrific. All I know is I still own a pair and I fit in with my teenage kids and all their friends who are wearing them again. This time around though, you are supposed to be wearing them with socks. I'm not there yet.
If you can't stand it any longer and need to slip your feet into something more uncomfortable for old time's sake, you can still get many of these shoes today. Chances are if you have teens in the house they may be wearing some of these '90s classics themselves so you can try them on and take them for a spin before committing,
I may have just ordered a fresh pair of Keds and some combat boots myself.
This article was originally published on