60 Clever Things That Make Your Home So Much Better For Less Than $35 On Amazon
Make the most out of every dollar.
Written by Jenny White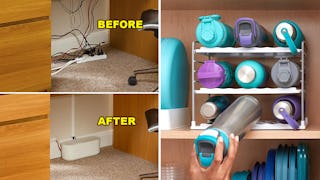 We may receive a portion of sales if you purchase a product through a link in this article.
Making your home more comfortable, more organized, and more beautiful doesn't require massive changes and hundreds of dollars if you carefully choose low-cost items that make a big impact. On this list, you'll find 60 clever things that have been thoroughly vetted and are backed by hundreds of glowing reviews. From lighting that doesn't require drilling to a pretty rug that's machine washable, everything costs less than $35 and is available on Amazon for your convenience.