All The Secrets To Decoding Costco's Price Signs
A seasoned shopper shares how you can save at Costco just by knowing a few things about how they price items.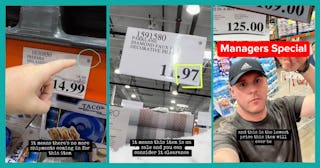 @superunsexy/TikTok
Shopping at Costco — or any bulk warehouse store — can be totally overwhelming. Products come and go, they move across the store, and it's sometimes hard to know when you're getting a deal and when you're just buying way more pancake mix than you and your family could ever eat in one human lifetime.
Also, while they publicly offer some special deals, Costco famously never actually tells anyone when items are for sale, on special, or on clearance. But there are ways to find out, and employees have spilled on what they are.
Recently Sean, a bargain shopper who shares his tips on TikTok as @superunsexy divulged his top nine Costco secrets that only an employee would know. And the best ones all have to do with how to read into the store's seemingly straightforward pricing signs.
Here's what you need to know.
First and foremost, if you see an item ends in $0.99, it usually means it's regularly priced.
If an item ends in $0.97, it usually means the item is on clearance, and you're getting a better deal than usual.
If an item ends in numbers like $0.39 or $0.49, Sean explains, "It typically means these are deals by a manufacturer or brand name item."
If an item ends in a double zero, that means it's a manager's special — and it's likely at its lowest price ever. A good time to grab it!
A reminder that sale items and manager's specials are not announced in any other way; don't bother looking for clearance signs, advertising, or red tags. All you get is the subtle chance in price.
And if you see an asterisk in the corner of the price sign? That's called the "death star," and it means a product is not being re-ordered; it's going away.
"It means there are no more shipments coming in for this item, so if you want it, you better buy it now because you may never see it again," he explains.
"Death star" items may or may not be on sale, but it does mean that they are limited.
Sean also cleaned up some confusion about the date in the corner of Costco price tags.
"Many people claim that the date holds a special power, but that's just not true," Sean says. "A Costco employee told me that this date is simply the time this tag was printed and shoppers should pay no attention to it."
One other issue he touches on is Costco's really great return policy, which has a clause about sales. If something you buy goes on sale within 30 days of your purchase, you can get a refund for the difference. And you don't necessarily need the receipt. So, if you're shopping and see something that you bought is now on sale, clearance, or a manager's special, get thee to the help desk and get some money back in your pocket!
I've used this last trick successfully, and will add that many of their seasonal items go on clearance near the end of the season, so be especially aware of when big-ticket items that you purchase early in the season (for example, in summer, a patio set, grill, or pool) go on sale in at the end of the season.
Are Sean's tips on point? According to actual employees, he's right on the mark. Now go forth and save even more money at Costco!