Seriously, Costco's Return Policy Is Bonkers Awesome
It's the store of your dreams, really.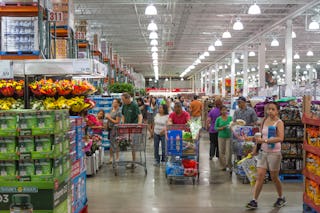 Brooks Kraft/Getty Images
Talking to someone with a Costco membership about their trip to the superstore will convince you it's like an adult amusement park. The $60 annual membership fee gives you access to discounted items in bulk, the beloved Costco-exclusive brand Kirkland Signature, and a warehouse full of electronics, furniture, clothing, and more.
So, yeah, it's basically a theme park for the whole family. But we're not here to review the many wonders of the store. Instead, we're diving into one major perk: Costco's return policy. Turns out it's actually pretty awesome.
What is Costco's return policy?
Costco's ultimate goal is customer satisfaction, which is why the store offers to refund what you paid on almost any item — many of which don't limit when you can bring them back. They call it their "Risk-Free 100% Satisfaction Guarantee." This even includes your Costco membership itself. If at any time in your membership year you are dissatisfied, Costco will "cancel and refund your membership fee."
Still, there are return stipulations for certain items. You can't return cigarettes or alcohol. Electronics have a 90-day return window, and diamonds over one carat need to be authenticated by a Costco gemologist before a refund is issued, to name a few examples. But seemingly, the only other things you can't return for a refund are airline and live-event tickets.
That new snack your little ones scrunched their faces at? Refund — yes, even after it's opened. The clothes you bought that didn't fit quite right? Consider the money already back in your wallet. Plus, you don't need your receipt or the product's original packaging to make the return. "It helps" if you have it, according to Costco's site, "but it may not be necessary to process your return." How is that possible? Well, that's where your membership comes in: All of your purchases, in-store and online, are tracked on your membership card.
You can view your in-store purchase history for up to two years in your online account by going to "Orders & Returns" and then the "In-Warehouse" tab.
Does the return policy differ between in-store and online?
Items you purchase in a Costco warehouse need to be returned in person, whereas Costco.com purchases can be returned in-store or via mail once a return is initiated.
Additionally, more limitations exist on what can be sent back through an online, self-service return. The main differences are that you can't return jewelry or perishable items like you can in-store.
What should you know before making a return?
Seriously, the process is about as easy as it gets. Even furniture you bought online can be returned if you become unhappy with it — Costco will send a carrier to your house to pick it up.
But some customers take advantage of the generous return policy, and you don't want to be one of them! The decision to accept your return is ultimately up to each individual store manager, so if they spot a pattern in your behavior (think: returning half-eaten food often) or think one of your return requests is abusing the policy, they may decline your return request. Worst case scenario? You could even have your membership revoked.
Costco can terminate a membership without cause, and abusing the member privileges and conditions is one reason store managers may opt to revoke a membership, according to Business Insider. The article cites one customer attempting to return a printer 10 years after purchase as the incident that ultimately led to Costco management canceling her membership.
So yes, take a risk on a new product knowing you can return it if it doesn't work out, but if you're worried that your return will look shady… it probably will.