This TikTok Creator Shows All The Free Things You Can Get On Your Birthday
From Crumbl Cookie to Sephora — dozens of establishments offer birthday freebies!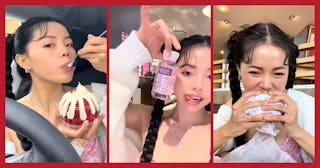 TikTok / @serenalexoxo
From free makeup to so much "on the house" birthday dessert, there are several stores and restaurants that give away free stuff for birthdays.
One TikTok user decided to take her followers along for the ride as she went from store to store, eating her heart out, and enjoying her birthday flawlessly while listing off where to go to get free stuff on your birthday.
TikTok user @serenalexoxo gained almost 4 million views on her birthday freebie video, noting that the last time she attempted to hit up a bunch of places for her birthday, she received some hateful comments.
"So, this year I'm gonna try to go do more," she said jokingly.
Here are some of the best places you can get free stuff on your birthday.