Could We *Be* More Excited?
You Can Now Buy A Giant Inflatable Sprinkler Shaped Like The Friends Couch At Sam's Club
"I'll be there for you when the rain starts to fall" has never felt so literal.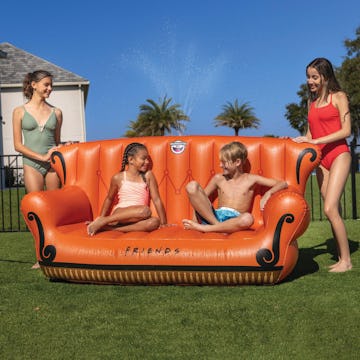 BigMouth
We may receive a portion of sales if you purchase a product through a link in this article.
People with Sam's Club memberships already know: It's the absolute best place to find cool and kitschy summer toys and accessories. And, because it's Sam's Club, they're almost always cheaper than anywhere else. That continues to be the case this summer, especially if you're a Friends fanatic. Sam's Club has just announced they're selling an inflatable, sprinkler version of the iconic Central Perk couch. You can pick it up and get a great deal on a hot dog and pop all in one trip. Could you be any more pumped?
It's easier than ever to show off your Friends' obsession in everyday life. You'd be hard-pressed not to find licensed Friends merchandise in almost every store. If nothing else, summer always brings a plethora of lobster-themed items to the shelves.
With a little bit of extra dough and a basic knowledge of shopping, you could have an entire Friends-themed party. Just don't forget to brush up on your Friends quotes. While cocktails in a Central Perk mug and fancy gold-framed periwinkle trays can go a long way in selling the theme, you need one over-the-top Friends piece to really send it. The BigMouth Inc. Friends Couch Sprinkler is absolutely the answer. Added bonus: Sam's is selling the couch for only $99.98, which makes it about $50 cheaper than most places online or in-store.
Is it easy to set up?
According to the product details, the couch is "super easy to use" — just inflate it and then plug in the garden hose. One reviewer offered a bit more information, explaining they used a small air mattress pump to fill the sofa to the recommended level. Then they hooked up the hose. "As a tip, we placed a simple gate valve from the hardware store on the hose so we didn't have to run to the spigot each time we wanted to turn the water off," they shared.
What do you even do with a Friends sprinkler couch?
Could it be any more obvious?! The very first thing you must do with the Friends sprinkler couch is cut up a certain R.E.M. song and stage a photoshoot. The couch is big — boasting room for three adults to sit comfortably, which is exactly what you should do. And, no, the sprinkler is not optional for these pictures. Fire it up and get drenched with all your friends, just like the fake friends do in the opening credits.
After that, the sky is the limit. BigMouth is known for its durability in floats, sprinklers, and sleds. So, if you're not about getting wet, just ~pivot~. Inflate that sucker and leave the sprinkler off for extra seating and the perfect spot to catch up.
After a photoshoot, though, the best use of the Friends couch is probably using it as a prop when you channel your inner-Joey Tribbiani, throw your arm over your partner, and utter, "How you doin'?"