Simone Biles Nails A Move No Female Gymnast Ever Has In Competition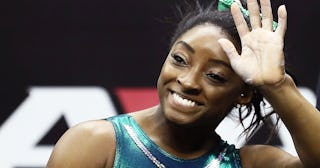 Jamie Squire/Getty
Simone Biles truly is the greatest gymnast of all time
Simone Biles is used to making history, and she just did it again. The five-time Olympic medalist was in the U.S. Classic over the weekend and nailed the Yurchenko double pike, a feat no female gymnast has ever achieved in a competition.
Biles, who hadn't competed in over a year, had been practicing the vault in practice for months. She finally tried in competition and, surprising no one, nailed it and earned a score of 16.1. The 6.6 start value for the Yurchenko double pike — just above less difficult vaults — isn't as high as it should be, according to Biles.
"That's on the [International Federation of Gymnastics], that's not on me," Biles said of the value. "They have an open-end code of points, and now they're mad people are too far ahead and excelling."
Regardless of the score, she remained on top and was happy with her performance. "It was really nerve-wracking but I'm just happy to be back out here, competing on a competition floor in an arena with the girls especially after a long year and the time off we've had," Biles told NBC Sports after the competition.
About the historic vault, she said, "I was just thinking, do it like training. Don't try to like overdo anything because I have a tendency, as soon as I raise my hand to overpower things and I did a little bit, but I was still on my feet. It's a new vault and I'm proud of how today went even though it was a little bit rough and uncharacteristic but it was okay."
She seemed surprised the video of her performance went viral, which is surprising because have you seen it? It's like a video game watching her body soar through the air like that. To that she simply said: "Yeah, it is everywhere. It's pretty crazy but it's also nice to see all the support from all over the world."
Biles has a combined total of 30 Olympic and World Championship medals, making her the most decorated American gymnast. It's fitting that she was wearing a leotard with a rhinestoned goat — the acronym for "greatest of all time" — on the back when she nailed the vault.
Biles returned for one more year even after the Olympics were postponed because of the coronavirus pandemic. "It's more stressful whenever I go out and compete," Biles told NBC earlier this year. "It's just scary. Because I go out, and I'm like, can I do it again? Can I be this good? And can I repeat what I did last year, last time, last Olympics?"
She continued: "What motivates me is to strive to be better than I was before." Turns out she's proving that to herself and the rest of the world, again and again.