As a single Parent, A Night Out Saves My Sanity and Makes Me a Better Mom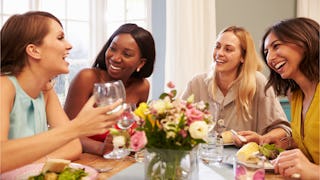 Monkey Business Images / Shutterstock
After a long, hard day/week/month, there is nothing more satisfying than putting my jacket on and walking out the door sans child.
As a mom, it is always a treat to have some time to yourself. As a single mom, having a night out with your friends is a rare and often desperately needed occurrence. When you are the primary caregiver to a small person literally 24/7, getting out without your kid isn't just a treat, it's also necessary for your well-being. I am usually swamped and overwhelmed, so when the opportunity presents itself to be able to go out and cut loose for a few hours, more often than not, I'll take it!
RELATED: 36 Caregiver Quotes And Poems Sure To Buoy Your Spirits
Going anywhere without my kid doesn't happen often, but that's what makes it even better.
As a single mom, I feel like I have to stockpile nights out. This way I don't feel too guilty about leaving my son. The guilt is bullshit, but I can't help it. I don't want my son to feel like I don't want to be around him, but sometimes I need adult conversation without having to chase him around. It's not usually anything beyond dinner with a close friend, but those couple hours sitting at a table, maybe having a glass of wine or a cocktail (I don't drink if I'm out to dinner with my son) and talking freely is so refreshing.
I can bitch about my ex (his dad) without any little ears to hear. I can swear like a sailor without worrying that my son will pick up any more of my foul language. I can talk about work. The possibilities are endless. It's glorious.
It's so easy for us single moms to shut off any part of our lives that isn't centered around our child and parenting. There are only 24 hours in a day, after all, and we need every single one.
Going out costs money that we don't always have or can't afford to spend on anything that isn't an absolute necessity. You have to carve out a chunk of time that isn't always feasible because you have three million things to do and most of those things can't wait. You have to find child care, which isn't always easy (or cheap!) to procure. Honestly, it's easy to say that a night out with your girls isn't worth all the hassle.
And sometimes, maybe it isn't.
But when you feel thisclose to losing your shit, and your friend calls and asks you for a night out, you freaking go! You will not regret going, but you will sure as hell regret sitting at home alone again, zoning out to Netflix while you mindlessly scrub the kitchen. Single moms are constantly on. We never really get a time to just shut off completely, and it takes exhaustion to another level.
There's always something that needs to be done, even if the kid is asleep (especially when the kid is asleep, if you're anything like me). That's when I get shit done.
An occasional night out reminds me that I'm more than just "Mommy." Deep down under all of that, I'm still "Sa'iyda," and she is important too. When I get nights out, I always come back feeling so rejuvenated. It's amazing what a few hours of adult conversation, and a hot meal, can do for the soul. I get to talk about the things I like to do, not about Thomas the Train or the latest Disney movie. I can talk about my unrelenting crush on Harry Styles or about what books I'm reading. Those nights out fill my cup.
I didn't realize that I was missing that until I got back to it.
I've only recently felt comfortable leaving my son so that I can spend time alone with friends. He is 3 1/2 years old, but he was very needy when he was younger so I tried not to be gone for anything beyond work obligations or an appointment. But now he has proven that he can hang without me for a while, so it works out for both of us. I can order dessert or another cocktail and shoot the shit for a bit longer. He can enjoy being spoiled by grandma, or having a fun time with a sitter.
As a single mom who works from home, my son and I are together all the time. Admittedly, it was hard to pull away from him. It was an adjustment for both of us. I liked spending all my time with him and knowing that he's safe and happy. But I also realized that as much as I loved being with him, I loved being without him sometimes too. I needed to be without him sometimes, for my sake and for his.
Since I've started making time to go out with my girlfriends again, I've realized that I've become more of a person, something beyond a single mom. It is so easy to let your entire identity get wrapped up in that part of your life, but you're not really living if you keep yourself confined to that box. Self-care is vital, and single moms need to get in on that action too, even if there's a few extra hurdles to make it happen.
There are some elements of the single mom life that are never going to change. There's not going to be anyone to swap bedtime duties with, no matter how tired I am. Money will always be tight. I will often feel burned-out and at the end of my rope. That's just the reality of my situation. But it doesn't have to be that way all the time.
I'm learning how to pick up the phone now and ask a friend if she has time to grab a drink, or head to a new restaurant for dinner. Not only does it help me regain some semblance of sanity, it also makes me a better mom. And my son deserves me at my best, so I will keep making time for my kid-free nights.
This article was originally published on